Old Red Lion Theatre – until 6 May 2023
Reviewed by Philip Brown
3.5***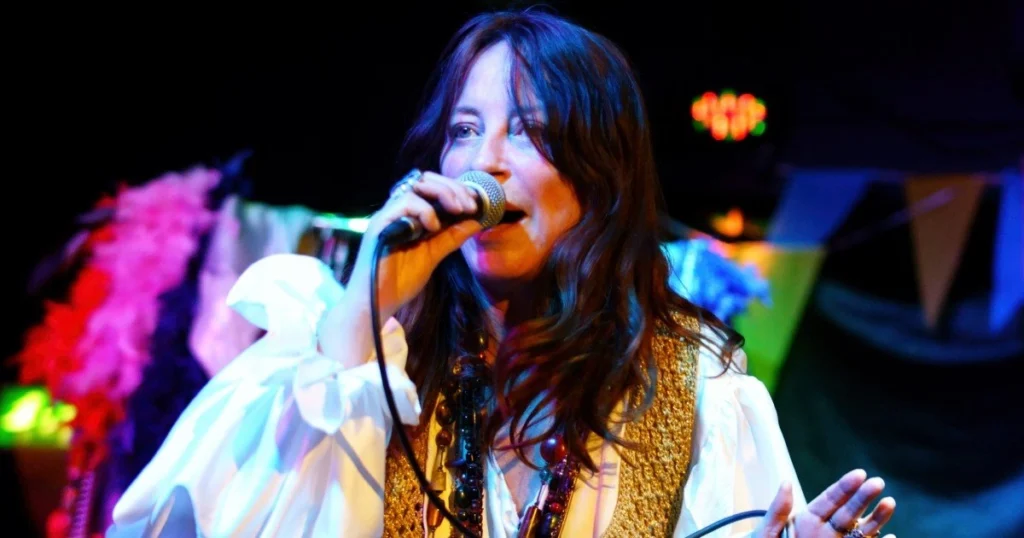 This one woman show conceived, written and brilliantly performed by Collette Cooper is an extraordinary portrait of Janis Joplin, perhaps the ultimate American west coast "rock chick", who shot to fame in the second half of the 60s but was dead by October 1970 – an early member of the infamous 27 club (Brian Jones, Jimi Hendrix, Jim Morrison & Grateful Dead's Pigpen – all substance abuse related deaths at the age of 27). The show's title reflects her essential balls-out, "carpe diem" attitude to life.
I couldn't smell patchouli, but the bijou theatre at the top of the Old Red Lion was decked out like a flower power emporium whilst a "head" in a kaftan offered spiritual drugs on entry. Alongside a central performance area, is Joplin's small boudoir full of her iconic stage garb which gets whipped off and on as things progress, along with trolleys of her favourite poison – Southern Comfort. Completing the picture, at the rear of the "main stage" was a very good three-piece band (the TSP band), playing the Big Brother & Holding Company role, delivering searing acid rock backing (Jack Parry as Sam Andrew on lead guitar, David Malek as James Gurley on bass and Jan Simson as Dave Getz on drums).
The show kicks off with one of Joplin's later songs – "Tell Mama" – in which Cooper establishes her hard rocking credentials.  Joplin was renowned for her dynamic, uninhibited live performances and Collette Cooper emulates Joplin's ferocious "on-stage" energy superbly throughout, with a singing voice that is a pretty close match to Joplin's rasp without being quite as flexible.
Between songs, Cooper moves to the boudoir where we learn about Joplin's life, from childhood in Port Arthur, Texas to discovering the blues, to Haight Ashbury, San Francisco and back. Whilst these interludes are generally Southern Comfort fuelled, angst ridden reflection about not fitting in and other insecurities, they feel natural, convincing and surprisingly nuanced – a tribute to Cooper's writing and performing skills. Overall, it's a sad story and despite apparently claiming to be at her happiest at the peak of her fame, and on the verge of a triumphal return to Port Arthur as the first queen of rock, deep down, you feel Cooper as Joplin probably doesn't fully buy it.
It is testament to Cooper's magnetic story-telling that this 90 minute show (without interval) kept the audience gripped throughput and passed in a flash. There were several moments of audience participation which were mostly charming and fun, but therein lies an issue with the show. It's attempting to create a feel-good right here right now, party atmosphere from an ultimately tragic story.
As a celebration of Joplin's music, I could quibble about the choice of songs – no room for "Summertime", "Down on Me" or "I Need a Man to Love" – and one or two more numbers would have been welcome, but if this show sends the audience back to the source, it will have succeeded.   
Overall, you have to admire Collette Cooper's fine accomplishment.  In fact it's a gas. Artistically, "Tomorrow May Be My Last" amounts to her magnum opus – a honed and well-constructed entertainment bringing a pioneering, but, these days, relatively obscure female musician back to life.  Commercially,  it taps right into the burgeoning  music nostalgia market.