Darlington Hippodrome – until 4th March 2023
Review by Stee Leahy
4****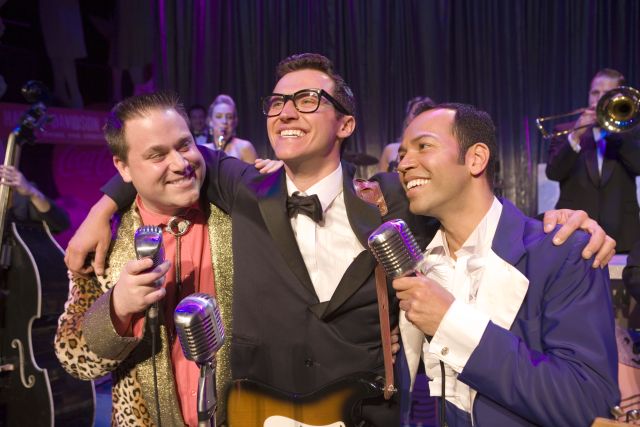 A rock and roll revival for the people of today!
As I took my seat I was transported back to the 1950s with music softly playing from the era. It was a great way you settle the audience and set them up for the treat that was lying ahead.
As the show starts, we as an audience are introduced to radio host and show narrator, 'Hippockets Duncan' played by the wonderfully diverse Thomas Mitchell, respectively.
He tells the tale of the leading chap 'Buddy Holly' played by Christopher Week and his two friends, the fun 'Joe B Mauldin' played by Joe Butcher and 'Jerry Allison', played by Josh Haberfield to great acclaim. The three friends form the band 'Buddy Holly and the Crickets'.
The story follows the band as they start off, firstly playing country music, performing for a local radio station in Texas, known as KDAV. However, Buddy sick of playing country and western music takes it upon himself to play his own style of music with the Crickets on a different radio station, Decca Records, this outrages KDAV!
Later Hippockets Duncan recommends Buddy to a new up and coming Record producer, Norman Petty and his wife Vi, played superbly again by Thomas Mitchell and Stephanie Cremona. Vi, a pianists helps Buddy and the Crickets work on smash hits 'That'll be the Day' and 'Everyday'. This scene in particular was excellently acted and captivating from start to finish. The chemistry was nothing less than perfect.
As the story moves forward, we watch as Buddy and The Crickets shoot to fame with their smash hit 'That'll be the day', and thanks to their single hitting the charts, the band set off on a national tour.
Whilst on tour they arrive in Harlem.
Here we meet two Apollo Performers, portrayed by the incredibly talented Samuelle Durojaiye and Laura-Dene Perryman. We watch as Buddy and the band try and win them both over.
Later Buddy meets Maria Elena played by the enthrallingly captivating 'Daniella Agredo Piper' and asks for her hand in marriage after just 5 hours!
The show takes a dramatic turn towards the end.
The last chapter had everyone hooked. It was tense and brilliantly played by all involved. You could hear a pin drop. 
The show itself has a great feel of a concert, with the story being told in such a way that it complimented the hits of 'Buddy Holly and the Crickets'.
The set was minimalistic but effective to say the least. Themed like a 50s cafe, it complemented the production perfectly.
The costumes, I can imagine we're very nostalgic to anyone from or who remembers the era.
This production is the perfect treat for anyone who is a fan of Buddy Holly, the 50's or good theatre!