Theatr Clwyd, Yr Wyddgrug – until Saturday 1st April 2023
Reviewed by Julie Noller
4****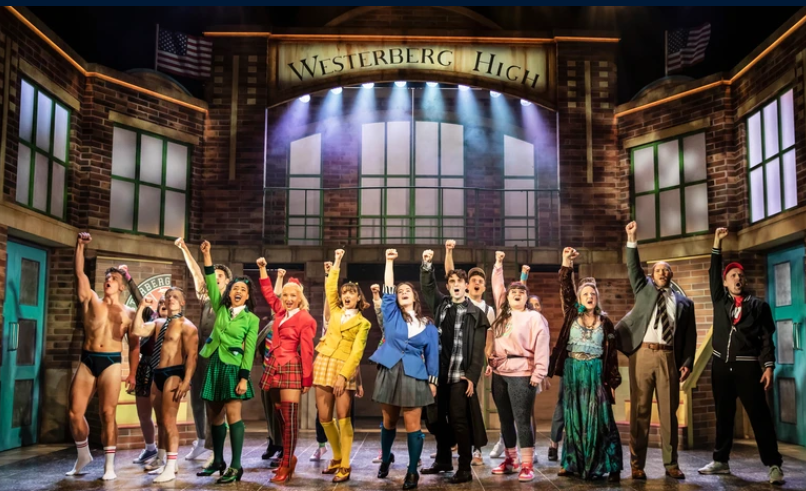 Heathers originally a 1989 black satirical comedy film that unfortunately flopped but retains a following of those who didn't want to watch the sickly sweet teen movies that began with the Brat Pack.
I admit I was more than curious, just how would it appeal not just as a theatre production but as a musical. Firstly I was struck by the age of the audience not just those of my age who were teenagers back in 1980s but lots of younger Generation Zs. Not only that but I was impressed by the costumes donned by many who dressed as the Heathers, in brightly coloured suits. I immediately became aware of the buzz; the anticipation of what was to come. It is set in the 1980s – 1989 to be exact yet it doesn't feel dated or weighed down by the yuppie era. There is a deliberate unpolitical correctness that should be attached to the 80's, words that are no longer accepted are used to add to the teenage angst. It takes a long deep look at the politics of high school.
What struck me after my initial confusion of trying to settle into the story, is that it's a musical; this isn't another teenage movie much as the original film broke the mould then the award winning writing team of Laurence O'Keefe and Kevin Murphy have followed suit.
Forget the story just listen to the brilliant songs let yourself get carried away. It is a teenage school musical much akin to High School Musical, yet it isn't saccharine sweet more like it's hit the steroids. As I said I watched the audience around me, I witnessed the singing, cheering, whooping; without a doubt Heathers has gained a cult following and is truly set to become a modern classic.
So much is similar to the film, the characters, personalities, setting. Westerberg High School the home of the rottweilers, very apt considering it's a dog eat dog battle of survival. There's Veronica Sawyer (Jenna Innes) great singing voice, lost within herself. Facing the battle of wills her good self happy to be supporting her friend Martha Dunnstock (Kingsley Morton) or the other side hitting the popularity highs, the sliding down into the murderous encouragement of boyfriend and new boy the sadistic JD (Tom Dickerson who stepped into the role). Together Jenna and Tom are a power couple he never misses a beat and they gel so well especially with 'Our Love is God'. Then there are three Heathers, queens of bitches, rulers of Westerberg kingdom. Verity Thompson, Elsie Zavou and Billie Bowman play them to perfection. Verity Thompson as the leader and total dominant Queen Bee shines as a ghost communicating to an extremely guilty Veronica telling her that the highschool system they as the masses and lesser people knew and even hated was breaking down after her death and things would get worse.
I loved the costumes the fact that every student group from punk to emo was represented. The Heathers are dressed in suits of prime colours aiming to stand out as leaders, the only blip being when green changes to red (to some green is not a true prime but a mix of shades) Everyones favourite jocks Kurt (Alex Woodward) and Ram (Morgan Jackson) bring much needed laughs, poking fun at the whole beef before brains, you can't help but love them. The fact that the homophobic scenes are played down with additions of having a song titled 'I Love my Dead Gay Son' brings it smack upto date with today.
Heathers should be added to everyones tick list, a future cult classic that stands out apart from the pack as quirky, fun and comical.