Everyman Theatre, Cheltenham – until 4th March 2023
Reviewed by Jacqui Radford
4****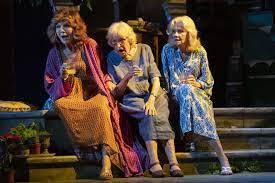 Based on the book 'These Foolish Things' by Deborah Moggach, this play shares its title with the hit film that perhaps many of us are very familiar with. If it's been a while since you enjoyed the film, then the play will bring everything flooding back.
Set in a crumbling hotel chosen for retirement living by an eclectic group of British travellers searching for rejuvenation and new horizons, the play is a comment on our attitude to getting older and being 'abandoned' to the care system. Each of the characters portray various family dynamics and experiences that have essentially left each of them finding their own way back to happiness.
The hotel itself also needs a new lease of life and seemingly, that is provided by the group of retirees who don't want to give up on life or their own retirement plans and find themselves encouraging the hotel owners to give it one last shot.
This show has an excellent cast, including Paul Nicholas, Tessa Peake- Jones who play characters discovering freedom, friendship and new love by the end of the play. As a whole the cast deliver caustic comment on life and punch lines galore that raise laughter throughout. Perhaps that's because we all recognise that we sometimes look at our elders as though they are beyond hope and yet secretly realise that we all need to believe there is always more to discover while we are still breathing.
The set is beautifully designed to show a colonial hotel at the heart of past and present communities, bringing the two together with added warmth as the play progresses. The grand finale and feel- good factor we are all craving is delivered in all its glory with a final injection of music and dance that got everyone involved. Nobody left without a smile on their face and that included the cast, who clearly had a whale of a time.