The Vaults until 14 January 2023
Review by Heather Chalkley
4****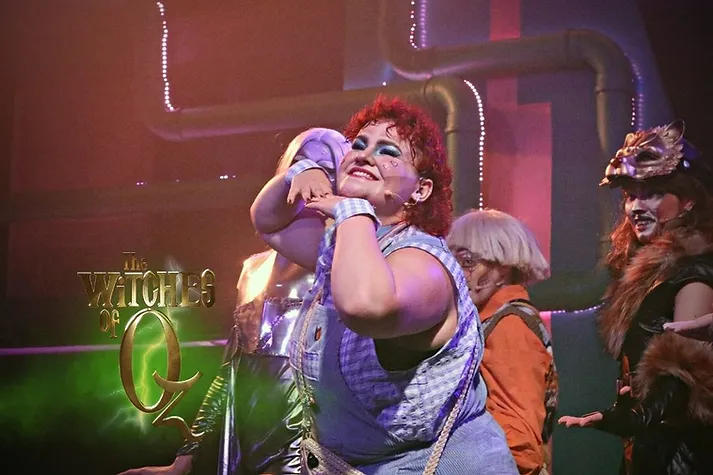 Entrepreneurial writer and director Shane 'Shay Shay' Konno offers a new era blend of panto and burlesque, with a hint of hunger games thrown in! Traditional panto is a story of good overcoming evil. The Witches of Oz puts a thoroughly modern twist on this theme, with gender identity, the environment, and corrupt politicians at the forefront. Often with hilarious results. The piece is stuffed to the rafters with gags!
The Munchers (the audience!) wears shades of green to reflect the glow of the emerald city. As we feast the story unfolds. As the story unfolds the Munchers vote with their boos and cheers, changing sides and sometimes mixing it up as they are making their decision. The cast sets the scene with spotlight introductions, each character maintaining their persona throughout.
Grace Kelly Miller (The Good Witch) is the compere that carries the story along, bringing shades of The Capitol elite from the Hunger Games. She carries the deceit perfectly balanced, with a desperation only those that are in too deep to see a way out of a corrupt system. Miller also raises the energy in the room with her powerful tunes.
Feyi Wey (The Wicked Witch) is the activist pushed out by the elite, desperately trying to save Oz from environmental disaster. Half her lines are Adele song titles, which the audience soon picks up on with great approval. She's got soul! Especially as Wey really brings it with Adele power ballads. She puts a positive spin on what it is to be 'wicked', as in cool, hip, awesome!
Doro 'they' (Lily Downes) combines the sweet, dulcet tones of the original Dorothy with a rambunctious, confident, fully fledged adult, very comfortable with their gender identity. This character is a great example of how it can be for today's young people, in their discovery of who they are. Downes wastes no time making it clear that they received help and support to get where they are.
Tin (Fizz Sinclair), Lion (Milla Sutton) and Scarecrow (Sara Nelson) are each distinct characters that carry a different facet to the message of the piece. Nelson (Scarecrow) brings a quirky mad professor feel to the part, that is embodied in the song Fire Starter – that gets the audience jumping! Sinclair (Tin) throws some great shapes and delivers a wicked deadpan gag. Sutton (Lion) gives you a great range of facial expressions, with no illusions as to what he is thinking and feeling.
The set and lighting take some skill to successfully deliver the Emerald City and Witches Mountain vibe. The Vaults is the perfect venue, with the rumble of the trains over head adding to the atmosphere. If you want a fun night out with good food, great songs and a 'wicked' storyline, this is the place to come. Konno is a writer to watch out for.