Theatr Clwyd, Yr Wyddgrug – until Saturday 25th March 2023
Reviewed by Julie Noller
5*****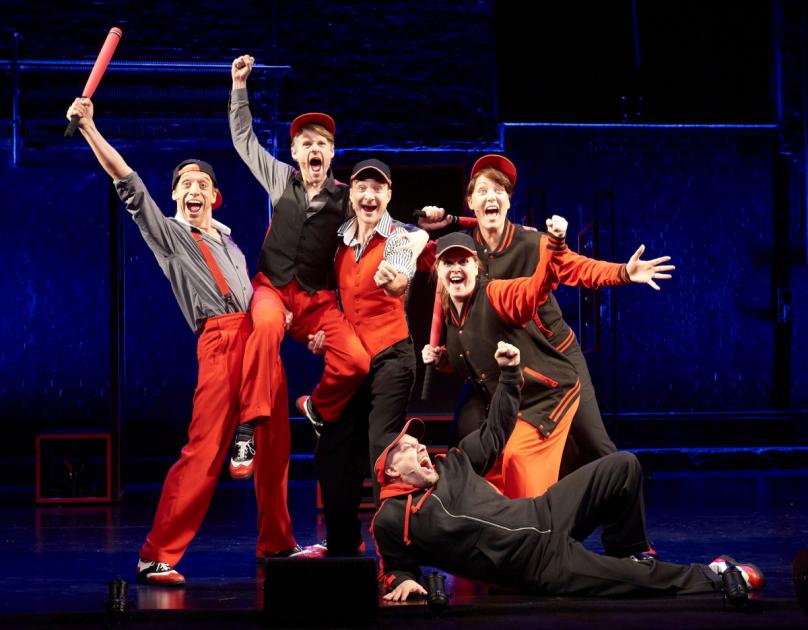 I don't have enough words to tell you how much I enjoyed Showstopper, but you must just go and see it before it heads back to the West End for a new run. You will laugh from start to end I promise you. The origins of this hillarious and totally improvised Olivier Award winning musical comedy are the Edinburgh Fringe, where its wacky and crowd pleasing antics won over the masses. Co-created and Directed by Adam Meggido and Dylan Emery they Produced along with Keith Strachan. If you remember the days of comedy improv shows such as Whose Line is it Anyway then this without a doubt is for you.
Each show is absolutely different with a large company to pick from (including cast and band), I wonder if they draw straws for who gets to hit the stage? It's a brilliant concept that I am totally in awe of and more than a little bit jealous at the skill and talent working together to entertain us; when I run out of steam in minutes.
There is no real story line for me to share for tonight will be another random selection by chance. Before the start of the show as we were finding our seats I noticed the background music was songs from well loved musicals perhaps nudging us to seek inspiration. Sean McCann was our evenings compare there to liaise with us, nudge the performers on if in its fast paced up, down and round the world action things were missed, forgotten or just dried up. He took to the stage to answer a red flashing telephone an ingenious way to signal to the audience that the fun and high jinx was about to begin. It may be improvised but its immersive too; theme, title and track ideas are all random offerings from the audience.
Don't worry you don't have to get involved this way, you can sit back and just listen; watch as a typical British audience throw their hands up high in order to be picked to offer ideas, would it be murder, Welsh rugby or witches? Highest cheer for witches narrowly beating Welsh rugby (which had its own segment) the title was Burn Baby Burn with track ideas from wide choices such as Eurovision, Oklahoma and The Beatles.
You wonder how this can be truly improvised? Well just watching the cast in action from the little movements, extravagant motions; smoking, cocktail making, dancing – the Cabaret scene was hilarious well in fact it was pretty much all hilarious. It's joyous to watch the catch totally engrossed in trying to keep singing and dancing, thinking of new lines whilst I feel equally being a tad naughty and stitch each other up.
The Second Act begins with suggestions made via twitter by the audience, some of which were chosen (small print claims all, some or none might be used) everyone's favourite was the soap dish suggestion proving that really anything goes.
I wish I had another ticket, it's a show you could watch again and again, each performance widely differing from the last. It's fair to say I loved it and if you haven't seen Showstopper then you really are missing out – do your homework before you go and have some ideas ready