MATTHEW BOURNE'S SLEEPING BEAUTY COMES TO NEWCASTLE THEATRE ROYAL
Audience favourite New Adventures make a triumphant return to Newcastle Theatre Royal with the gothic romance Matthew Bourne's Sleeping Beauty which takes to the stage for a stunning two week run (Tue 18 – Sat 29 Apr 2023).
The stellar cast includes several original cast members as well as a young generation of performers new to this beloved production which in 2022 celebrated 10 years since its premiere at Sadler's Wells, when it became the fastest-selling production in the company's history.
We caught up with Matthew Bourne on how it felt to be bringing back his production of 'Sleeping Beauty for its 10th anniversary…
"Sleeping Beauty is interesting because I felt I had to find an original way of approaching this piece. I love the music, but it did feel very grand and very famous and very difficult to approach in many ways.
"So, I read everything around Sleeping Beauty, the fairy tale versions, there a several, and various books about fairy tales that give insight into the story. I watched lots of version of the ballet. The thing that's interesting about the story is that it covers a long period of time with the 100-year sleep of Aurora. But it was really the time-period that influenced me the most. The ballet was created in 1890 and I said, 'Why don't we set the piece to begin in 1890?' Then we go forwards in time to Auroras 21st birthday which is 1911 and with the 100-year curse we are brought right up to the present day. Unfortunately, that was 10 years ago! So now we're sort of 110 years later, but we get around it somehow by being a little vague about the time period when she wakes up!
"What's great about recreating a classical ballet, is you've got this incredible score that was all written to dance to. The music becomes your script and tells you what the feeling and the emotion of each scene should be. Because Tchaikovsky and Petipa, who was the original choreographer, told their story through dance, its easy then to find a slightly different story through dance but using the emotions written into the music to guide you.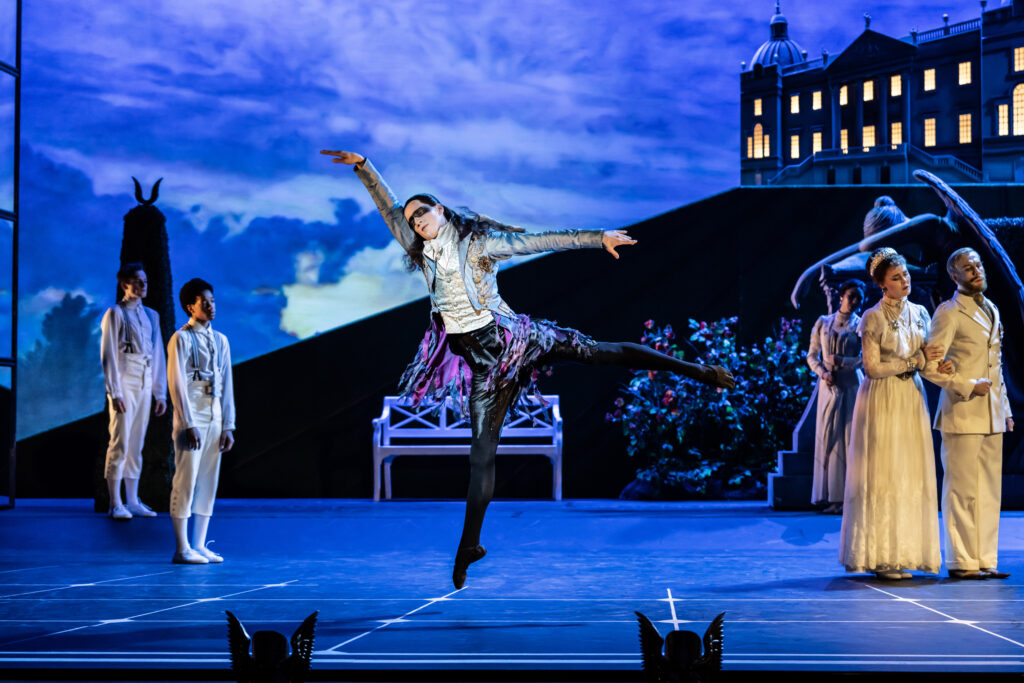 "We use the same piece of music at the beginning of Act 1 and Act 2 to represent the baby Aurora and then the grown-up Aurora. The baby is very naughty, a real hand full, and so is more grown-up Aurora in a way, she's a real wild child. By using the same piece of music, I thought that would tie them together. It's different than in the ballet, but it sounds absolutely right.
"Lez Brotherston, who is the designer I've worked with on most of the shows that we do, does similarly detailed research to me. He likes the sense of history in pieces, so this piece really appealed to him, resulting in an enormous number of costumes and wigs! Because it's not only the reality of those time periods, but also fantasy with fairies and wings and characters that are flights of fancy. Lez came up with amazing costumes for the fairies, all designed around different bird feathers. It gives Lez a chance to really be inventive and creative with those costumes and they're not referencing anything historical. Something I've also noticed with Lez's design, is that he loves to be true to history. It's a wonderful thing because it makes you understand why people held themselves in a certain way because of a corset or whatever it might be, and how that affects movement.
"When we originally developed the piece ten years ago, we decided to set up the love story of Aurora and Leo. Leo is an invented character of ours and is her first love. He works in the gardens of the royal estate. When Aurora is cursed by Carabosse to sleep for 100 years, I realised that the question is, how can they be together in 100 years' time? By turning the Lilac fairy, who is called Count Lilac in our version, into a vampire, he is able to give Leo the gift of eternal life. For me that was a very romantic idea and perfect for this story because it allows Leo to be there when she wakes up. Of course, there are consequences as he now is a vampire himself, but we sort of play with the idea that you can have a good vampire and bad vampire and this story is very much about good versus evil. Good and evil, it plays with it all the time, that's what Sleeping Beauty is about.
"One of the interesting ideas that Lez and I came up with early on for the piece was I always felt when I saw the classical ballet, there is always sort of a baby in the cot and she is the main character in the piece, you know, she is the leading character in this story Aurora, so I thought it would be great if we could give her a personality. So, the idea of puppets came up – could we represent Aurora with a puppet? I love to inject a bit of humour into the early part of the show so people relax, who may be coming to dance for the first time or thinking they're not to get the story and if they laugh, they're happy. In order to achieve the effect several dancers are covered in black body suits, manipulating puppet Aurora, bringing her to life, and through the lighting you can't even see they're there. It's incredible really.
"It's wonderful to see the different generations of dancers pass on their knowledge of the show and that's why I also like a mix in a cast of people who've done a show before and new people who bring a fresh light to it. Unlike other companies we get our dancers to work together on a role. They will share their experience of it and the new person will bring some new ideas that will go into the role as well, so it becomes very rich because of the input of lots and lots of people.
"The story is about the power of love, it's about love across time that's indestructible. That's why I call it a gothic romance because the overriding emotion is love, and how two people be together despite everything."
Now established as a firm favourite in the New Adventures repertoire, the award-winning Sleeping Beauty has enchanted audiences throughout the UK and across the globe.
With an unforgettable score by Tchaikovsky, sumptuous sets and costumes, evocative lighting and masterly storytelling, the beloved fairy tale is brought to life by the uniquely talented New Adventures company. Get ready to be transported in time from the halcyon days of the late Edwardian era through to the modern day in this dazzling gothic romance.
Sleeping Beauty is directed and choreographed by Matthew Bourne working with his regular collaborators and New Adventures Associate Artists, Lez Brotherston (Set and Costumes), Paule Constable (Lighting) and Paul Groothuis (Sound Design).
Matthew Bourne's Sleeping Beauty plays Newcastle Theatre Royal Tue 18 – Sat 29 Apr 2023. Tickets can be purchased at www.theatreroyal.co.uk or from the Theatre Royal Box Office on 0191 232 7010.