Leeds Playhouse – until 8 April 2023
Reviewed by Dawn Smallwood
4****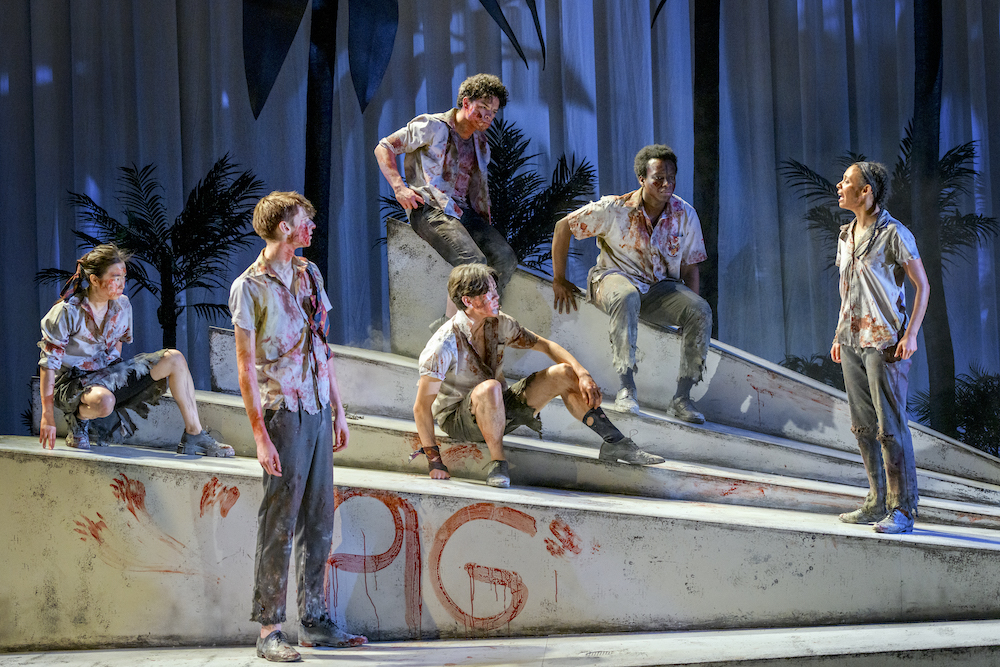 Co-production between Leeds Playhouse and Belgrade Theatre Coventry of William Golding's Lords of the Flies is brought to the stage and re-imagined 70 years later when it was first written. Nigel Williams' adaptation and Amy Leach's direction of this production realistically correlates to the world many live in.
The society people live in is compromisingly competitive and this has an impact whether inward or outward on everyone's purpose to survive or thrive in society. Golding's classic reflectively remains true to this present day and proves how society conditionally progresses and govern but sadly at the cost of humanity with psychological consequences.
The classic is set on an uninhabited island where a group of children are stranded following a plane crash during a war evacuation. This group of children are the sole survivors of the crash and are left to rule for themselves. Ralph (Sade Malone) and Piggy (Jason Connor) are firstly introduced and are keen to have order on the island however it doesn't bide well with some the others particularly Jack (Patrick Dineen) whose ideas about authority differ. The power divisions within the group unfolds with wildly unimaginable actions which one wouldn't imagine.
The narrative is dramatic, fast paced, bloodied and wild and certainly keeps one on the edge of their seat to anticipate what happens next. Strong themes evolve and battles are demonstrated between the rulers and unruly, morality and immorality, rational and irrational, the collective and the individual. It depicts how human nature and differing personalities contribute and compromise to the battle of wills and how this disunites all. This is very evident with today's current affairs and events happening in many societies across the world.
Excellent portrayals of the cast including those from Sade Malone (Ralph), Jason Connor (Piggy) and Patrick Dineen (Jack) whose ideas of leadership embody the wild spirit of this production. Max John's contemporary staging portrays an isolated desert island and works well with the story being told. The staging is supported by Chris Davey's lighting and John Biddle's soundscapes.
This well-done production is undoubtedly unique and inclusive with members of the deaf and hearing-impaired community being part of the cast and creative team. This solidifies the Leeds Playhouse's commendable desire to include one and all to the world of theatre and creativity.
Lord of the Flies is chaotically energetic, honest, raw, and wild.