Leeds Playhouse – until 28 January 2022
Reviewed by Dawn Smallwood
5*****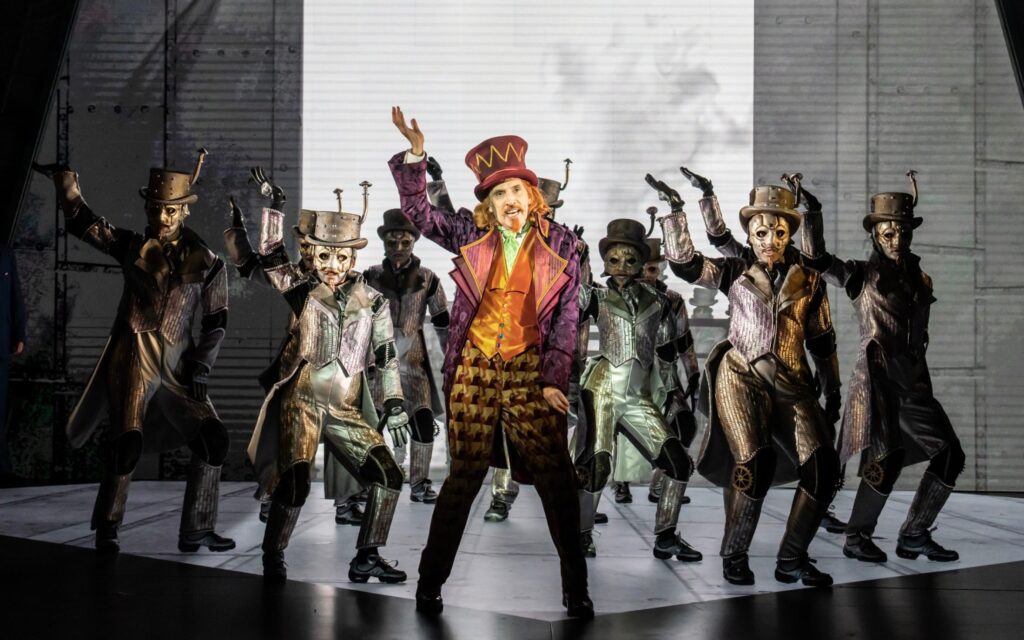 Roald Dahl's Charlie and the Chocolate Factory The Musical comes to Leeds Playhouse for the festive season. The musical invites one into a world of imagination of Charlie's plight and Willy Wonka's confectionery wonders at his chocolate factory. The musical is based on David Greig's book with Marc Shaiman's musical composition and his and Scott Wittman's lyrics.
Charlie (Amelia Minto) is introduced, and one observes the harsh reality of a family whose resilience to survive is supported by Charlie's creative will to dream and hope for better things to come. Charlie's creativity and optimism ripples through the family and is particularly encouraged to pursue this by Grandpa Joe (Michael D'Cruze). Fate suddenly changes when Charlie wins the last golden ticket to be invited to Willy Wonka's chocolate factory where it deems a once in a lifetime opportunity to be astonished and to reaffirm the belief that is seen.
Accompanied by four other spoilt children and their parents, Charlie and Grandpa Joe embarks on a tour of the factory by none other than the eccentric Willy Wonka (Gareth Snook), whose unrestricted creations imagine the unimagined. Supported by Simon Higlett's stunning and eye-catching staging and Simon Wainwright's visuals, the musical is combined effectively with Mike Walker's soundscapes, Chris Fisher's illusions and Tim Mitchell's lighting. This contributes to creative story telling as stipulated in Roald Dahl's narration of the characters and the plot.
The musical numbers by Wittman and Shaiman and is set to the latter's composition unravels the story from A letter From Charlie Bucket to the prophetic You Ain't Seen Nothing Yet/It Must Be Believed to be Seen and to the fulfilment of Pure Imagination.
The cast perfectly portrays the characters which is led by Minto's Charlie and Snook's Willy Wonka. The excellent and talented cast are supported by the company and the creative team combined with James Brining's direction, Ellen Campbell's musical equivalent and Emily Jane Boyle's choreography.
A combination of chocolate and candy are being imagined physically and figuratively as these are the perfect ingredients to make this musical a sweet success. One is transfixed from the start and transported to escapism throughout. Roald Dahl's Charlie and the Chocolate Factory – The Musical is a joy of "pure imagination" and a pleasure to view and consume the spectacular.