Hull New Theatre – 24th November 2022
Reviewed by Catherine McWilliams
3***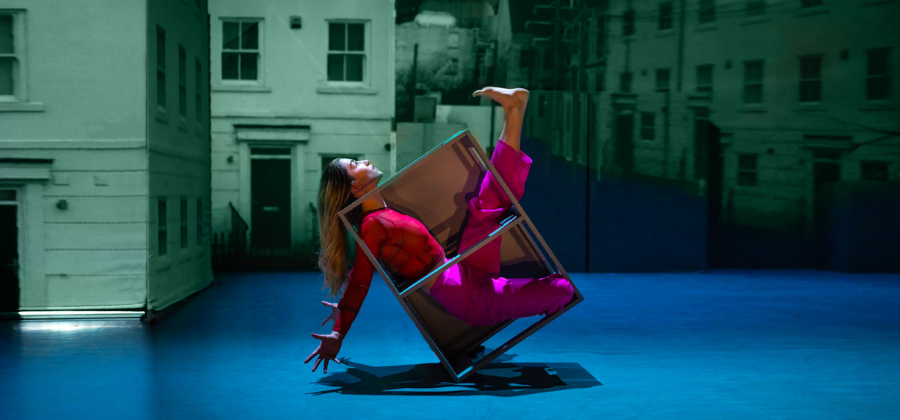 Nobody, presented by Motionhouse, is billed as "A dance-circus adventure" and whilst there are incredibly acrobatic feats within it, the contemporary dance is outstanding and is the key to the performance. Kevin Finnan the Artistic Director of Motionhouse has created a piece which will stay with you for a long time.
Nobody is broken into two acts, in the first act we see the characters coping with everyday life and struggling to cope with their inner voices, represented by crows. At the start of the second act the characters are at their lowest ebb, drowning in all that life has thrown at them, but by working together they discover their own strength and leave the crows behind. Kevin Finnan's work was developed during the covid lockdown and draws on the experiences of those times.
All of the dancers work as an ensemble, playing both crows and the everyday characters. The trust that these dancers need to have in each other is amazing as they drop from a height or are thrown around. Together they created human staircases to enable a character to climb to safety and hung from scaffolding pipes while another performer climbed across them, their core strength was outstanding. The dancing is beautiful with the dancers' arms and legs creating wonderful lines and conjuring up so much emotion. The crows were beautifully portrayed, menacing and dark as they prowled the city. The angst of the characters poured off the stage as they struggled with life, negativity was rife throughout the stage. Particularly poignant was when some of the performers stood alone in a busy bar while everyone else was partying.
The set is created by projections which are not interactive but rely on the dancers moving the set on the right timings, this resulted in some quite jaw dropping backdrops and scene changes. There was not one point where the change seemed forced and what the dancers could do with that large cube was stunning to watch. The soundtrack to the piece was insistent and added to the emotions on stage, feeding into the fears and anxieties of the dancers.
This is a visually stunning, beautifully danced performance with some utterly jaw dropping moments, music and scenery being equal in creating the atmosphere. However, it is also a deeply disturbing and very depressing performance, the negativity created in the theatre was huge, although it is lifted to some extent in the second act. Kevin Finnan has succeeded in creating a very thought-provoking piece