FULL CAST ANNOUNCED FOR
TONY! [THE TONY BLAIR ROCK OPERA]
BY HARRY HILL & STEVE BROWN
'Look anyone will tell you, I'm a pretty straight sort of guy.' Tony Blair
A reckless reappraisal of the life of former Ugly Rumours front man and Britain's first pop Prime Minister Tony Blair.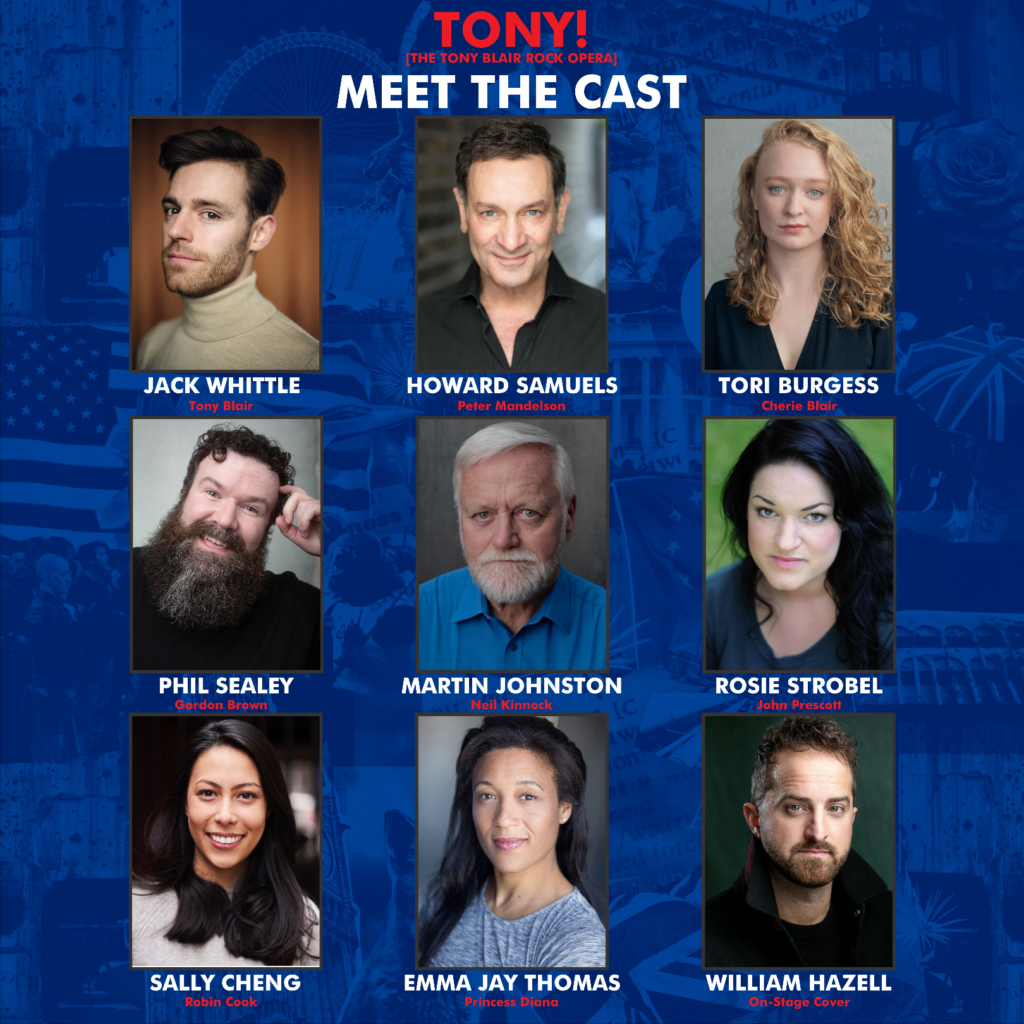 The full cast for the London run and UK Tour of Harry Hill and Steve Brown's hilarious musical, TONY! [The Tony Blair Rock Opera] will be Jack Whittle as Tony Blair, Howard Samuels as Peter Mandelson, Tori Burgess as Cherie Blair, Phil Sealey as Gordon Brown, Martin Johnston as Neil Kinnock, Rosie Strobel as John Prescott, Sally Cheng as Robin Cook, Emma Jay Thomas as Princess Diana and William Hazell as on-stage cover. Other characters featured in the musical, who are played by the cast, include Saddam Hussein, Liam Gallagher, Alastair Campbell, Osama Bin Laden and many more.
TONY! [The Tony Blair Rock Opera] will play a limited season in London's West End at the Leicester Square Theatre from 15 April to 21 May, with a press night on 25 April. The musical will tour the UK from 25 May, including Tony Blair's previous constituency of Sedgefield and four weeks at the Edinburgh Festival Fringe in association with Pleasance, with further dates to be added.
The musical tells the story of how one man went from peace-loving, long-haired hippy and would-be pop star to warmongering multimillionaire in just a couple of decades. Throw in a stellar cast of larger-than-life characters – Cherie Blair, Princess Diana, John Prescott, Peter Mandelson, Alastair Campbell, Osama bin Laden, George W Bush, Saddam Hussein and Gordon Brown – it's Yes, Minister meets The Rocky Horror Show and a musical like no other.
Please note: Neither Tony Blair, the Tony Blair Institute, nor any other person featured in this production have endorsed the production or its marketing materials and are in no way affiliated with the production.
Jack Whittle's theatre credits include the West End company of Mischief Theatre's The Comedy About A Bank Robbery, first playing Sam Monaghan and later Mitch Villiers, the first UK Tour of Laura Wade's Posh, playing Harry Villiers, and Mischief Theatre's multi-award winning West End production of The Play That Goes Wrong at The Duchess Theatre.
Howard Samuels was in the original cast of TONY! [The Tony Blair Rock Opera] when it premiered at Park Theatre last year.His recent credits include Jewish Hollywood (Upstairs at the Gatehouse), Max Detweiler in The Sound of Music (UK Tour), Nigel Bishop in The Cereal Cafe (The Other Palace) and his cabaret Unleashed (The Crazy Coqs). His West End Theatre credits include Jorge in Tonight's the Night (Victoria Palace Theatre), Frank-N-Furter in The Rocky Horror Show (Duke of York's Theatre) and Fyedka in Rebel in Paradise (Young Vic).
Tori Burgess was nominated for the Olivier Award for Best Actress in a Supporting Role as Mary Bennet /Mister Collins/Lydia Bennet/Anne in Pride & Prejudice* (*Sort Of) at the Criterion Theatre. Her other theatre credits include Beryl (Oldham Coliseum), Alice's Adventures in Wonderland (Royal Lyceum Theatre Edinburgh) and Margaret Saves Scotland (Traverse Theatre).
Phil Sealey's theatre credits include Robin Hood (Greenwich Theatre), Rehab The Musical (Playground Theatre, London), The Railway Children (Brewhouse Theatre, Taunton), Sounds and Sorcery (The Vaults), Fatbusters The Musical (Park Theatre) and Alice's Adventures Underground (Les Enfants Terribles).
Martin Johnston was in the original cast of TONY! [The Tony Blair Rock Opera] when it premiered at Park Theatre last year. His other credits include Lindsay Turner's acclaimed production of The Crucible(Olivier Theatre and NT Live), Mike Richards in the feature film Room 7 (won Best Actor in a Feature Film Award at the BSI Film Festival), the original cast of Harry Potter and the Cursed Child Parts I & II (Palace Theatre, London), the original West End cast of Footloose – The Musical(Novello Theatre) and The Postman Always Rings Twice(Playhouse Theatre, West End) opposite Val Kilmer.
Rosie Strobel was in the original cast of TONY! [The Tony Blair Rock Opera] when it premiered at Park Theatre last year. Her other theatre credits include Sister Mary Patrick in Sister Act, My Fair Lady and Me And My Girl (Kilworth House Theatre) and Katisha in The Mikado, Iolanthe, HMS Pinafore, Trial By Jury (Charles Court Opera). For eight years, Rosie was the lead vocalist with the London Breakbeat Orchestra, the UK's first EDM 32-piece orchestra, performing at major UK festivals, recording two 'Live at Maida Vale' sessions for BBC Radio 1 and collaborating with superstar DJs, Swedish House Mafia and Goldie.
Sally Cheng's theatre credits include A Christmas Carol (RSC), The Secret Diary of Adrian Mole Aged 13 and 3/4 The Musical (Queen's, Hornchurch), The Play That Goes Wrong (West End), Shadowlands (Chichester Festival Theatre) and Twelfth Night (RSC).
Emma Jay Thomas has appeared as Cleo/Stuzzi/Emily Greenleaf in The Talented Mr Ripley (Faction Theatre Company: Wilton's Music Hall, Vaults Festival and tour); Goddess u/s Miranda in The Tempest and Iras u/s Octavia/Charmian (RSC); the original company of Mamma Mia! (Prince Edward Theatre); Mimi and Gigi u/s Ellen in Miss Saigon (Theatre Royal Drury Lane and Tour); Meg in Merrily We Roll Along (Donmar Warehouse and Queen's Theatre); Sarah in Ragtime (Piccadilly Theatre).
William Hazell's theatre credits include The Choir Of Man (NCL), Doctor Who Live (UK arena tour), Bayside The Musical (The Other Palace), Dinosaurs In The Wild (Birmingham NEC) and Titus Andronicus (Shakespeare's Globe). He has worked extensively with a number of different vocal harmony groups, most notably The Kings, The Eastcoast Boys, The Brit Tones, The Somebodys and The Four Harmonies.
TONY! [The Tony Blair Rock Opera] is directed by Peter Rowe, with set and costume design by Libby Watson, lighting design by Mark Dymock, sound design by Richard Brooker, choreography by Francesca Jaynes and casting by Debbie O'Brien. The Park Theatre production of TONY! [The Tony Blair Rock Opera] is produced in the West End and on tour by Nicholson Green Productions.
For more information, visit www.tonyblairrockopera.co.uk
Twitter and Instagram: @tonyrockopera
LISTINGS INFORMATION
15 April – 21 May 2023
Leicester Square Theatre
6 Leicester Place
London WC2H 7BX
Performances vary, so please check the website
Box Office: 020 7734 2222
Website: leicestersquaretheatre.com
Tickets: from £26.50
Running Time at Leicester Square Theatre: 2 hours (inc. interval)
Suitable for 14+
TOUR SCHEDULE
25 May – 3 June Guildford Yvonne Arnaud 01483 44 00 00
7 – 10 June Birmingham Rep 0121 236 4455
14 – 17 June Cardiff New Theatre 0343 310 0041
21 – 24 June Richmond Theatre
27 June – 1 July Brighton Theatre Royal
3 – 8 July Bath Theatre Royal 01225 448844
11 – 15 July Chester Storyhouse 01244 409113
18 – 22 July Malvern Festival Theatre 01684 892277
24 – 26 July Darlington Hippodrome 01325 405405
www.darlingtonhippodrome.co.uk
27 – 29 July Sedgefield Parish Hall
www.eventbrite.com/e/tony-the-tony-blair-rock-opera-tickets-537360799617
2 – 27 August Edinburgh Pleasance at EICC (Venue 150) 020 7609 1800/0131 556 6550
2 – 7 October Salford The Lowry 0161 876 2015
Further dates to be added