Criterion Theatre – until 8 January 2023
Reviewed by Claire Roderick
4****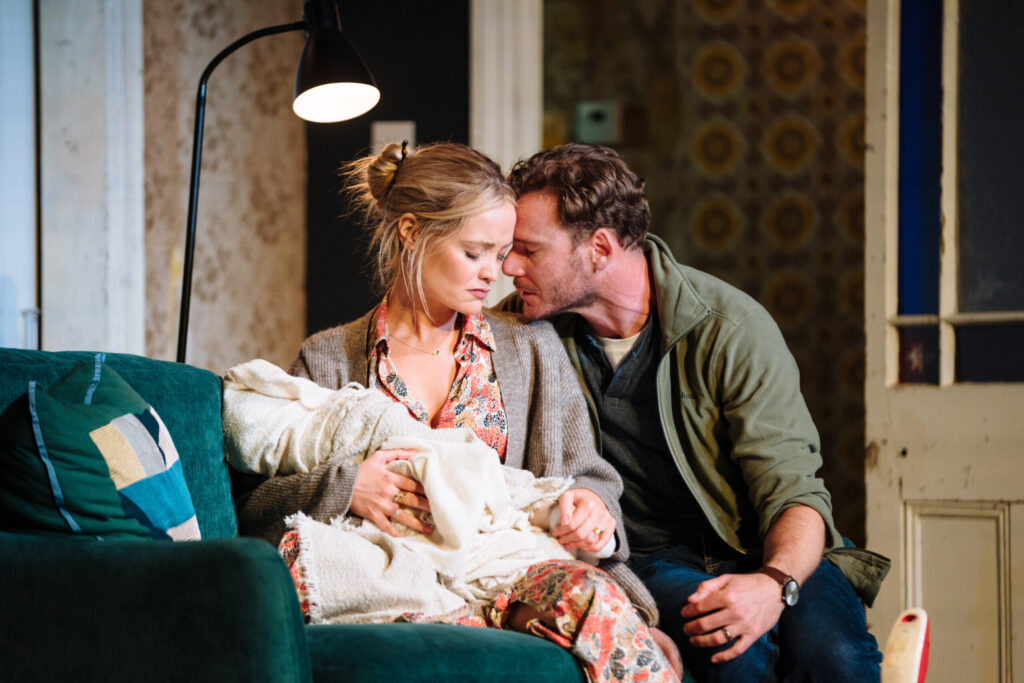 Danny Robins' nerve-jangling ghost story never fails to make me jump, even on my third viewing.
While Jenny's husband Sam was away, terrifying things began happening at 2:22 each morning, centring around baby Phoebe. Sam's condescending reactions on his return make her determined to prove that there are supernatural forces present in their house. Dinner guests Lauren and Ben are along for the ride as strange things begin to happen while the clock ticks relentlessly towards 2:22.
Robins' peerless writing builds tension from the start, with exquisite design by Anna Fleischle (Set), Ian Dickson (Sound), Lucy Carter (Lighting) creating spine-tingling moments. The couple's newly renovated terraced house in a gentrified area of London has a character of its own, with layers of partly removed ancient wallpaper sharing a space with stark modern doors and skylights. The presence of Ben, a builder who grew up in an area like this but makes his living remodelling for families like Sam and Jenny, exposes the classism and intellectual snobbery of Lauren and Sam as scientist Sam tries to rationalise every mysterious event. Through arguments and "quizzes" the characters explore ideas of what ghosts are and why they return, all the while badgered by Sam's unceasing certainty in scientific explanations. Jenny's conviction that the house, or its past owners are reacting to them ripping the soul out of the building as windows open, objects move, lights flicker, and their Alexa rebels leads to a brilliant séance scene that swerves from nervous laughter to gasps of terror in the blink of an eye.
Under Matthew Dunster's assured direction, this latest cast are a joy. Tamsin Carroll is brilliant as Lauren, drinking her way through the evening and capturing the underlying sadness of her life as she clings on to unrequited love. Felix Scott is fantastic as Sam, full of love and concern for his wife, but also snarky and patronising and hilarious as his frustration with events grows. Laura Whitmore is excellent as Jenny, defiantly protective of her child and increasingly angry at Sam without going over the top and making the character hysterical and unsympathetic. Matt Willis steals the show as Ben. The character has all the best lines, but Willis adds a wonderful wild-eyed, sometimes manic sense of disbelief when confronting Sam's attitude towards him.
It is a testament to Danny Robins' work that many people go back for a second viewing – this is lots of fun as you try to spot what is going on and notice foreshadowing. But you will still jump out of your seat! There are more jumps in this play than a trampoline competition, and it is glorious to be scared silly by such clever writing