Opera House, York – until 24th September 2022
Reviewed by Katie Goldsbrough
4****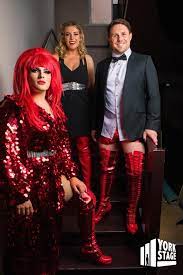 Based on a true story, Kinky Boots tells the story of Charlie (Damien Poole), who after his dad passes away finds himself in charge of his struggling family shoe factory. A chance encounter results in him meeting Lola (Samuel Lewis), a drag queen who loves fabulous shoes they form a friendship and work together to save the struggling factory, beginning to manufacture ladies boots with stiletto heels for men which will hold the weight of a grown man. Based on the 2005 film of the same name Kinky Boots has been a hit worldwide. 
We see how people can overcome prejudice and embrace people for who they are. Despite being a feel good and inclusive musical, we see some of the hardships Lola has been through, with their dad being unable to accept them. And as Lola arrives at the factory for work as Simon, they try to fit in only to be ridiculed and bullied by Don (Finn East) and his cronies. Resulting in a conversation about what it means to be a real man, Kinky Boots doesn't shy from discussing topics which are important. 
York stage's adaption of this much-loved musical is wonderful, the production company combines local and professional talent and they have become a company well known for their fantastic productions. The set design is excellent quickly changing from a Northampton factory to a London cabaret club and finally a runway show in Milan.
The cast all work together effortlessly and talent is excellent. Samuel Lewis as Lola truly stole the stage, when Lola and her Angels (Lola's back-up drag queens) were on stage you were unable to take your eyes off them resulting in them being met with a tumultuous applause during the final bow. With catchy music by Cyndi Lauper you'll leave the theatre wanting more and believing a good pair of shoes really are 'The Most Beautiful Thing in the World'.