Wales Millennium Centre – until 31 December 2021
Reviewed by Rhys Payne
5*****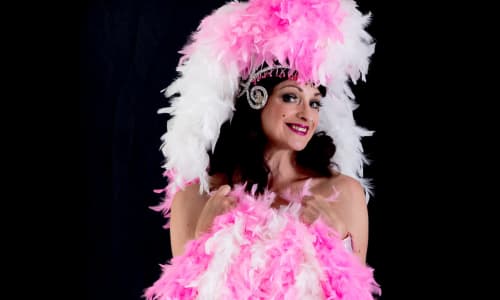 XXXmas Carol is a brand new adult focused production at the Wales Millennium Centre in association with Big Loop productions. The show is basically the story of A Christmas Carol crossed with a wonderful array of performances throughout to match key moments in the story. The first thing of note for this show is the fact that it is nothing like the family-friendly version in Sherman, in fact, it is strictly for a mature audience as there are depictions of sexual acts, constant strong language, references to drug use and most shockingly whips and other sexual toys on every table for the audience. I just need to reiterate that this is a show for only people who are over the age of eighteen and so my review many discuss these more adult themes!
The entire event is hosted by the incredibly talented drag queen Polly Amorous. I have seen Polly perform numerous times in local nightclubs where I know she can sing a little and is very entertaining but I had no idea the scale that this could be harnessed into! This show has been uniquely crafted to put Polly herself into the heart of the show where Scrooge is almost the male persona and Polly is his drag alter-ego. There are jokes throughout about appearing on drag race, quitting full-time work to become a full-time drag superstar and fits with her energetic and crude personality. Polly is clearly a very gifted triple-threat performer as she was not only able to perform her alternating roles of the narrator and Ebenezer Scrooge, she delivered both lip-syncing and live performance and her choreography throughout was something to be marvelled at! Talking about marvelled at I think some time need to be put aside to appreciate how stunning Polly looked throughout the whole of this show in her wonderfully festive-inspired outfits! Her first and opening number started off as "All I want for Christmas is You" by Mariah Carey, which I have seen performed by pretty much every queen I know in recent week, but quickly tweaked to being an intense and sexually powered song about wanting to be f**ked for Christmas which had the audience rolling in hysterics throughout. This song started with Mariah but ended up as an almost Nicky Minaj/Megan Thee Stallion style song which was wonderfully performed!
I was first Introduced to Rahim El Habachi during a different performance at Sherman Theatre. His original piece "The Love Theft" was a very powerful retelling of a classic Greek myth with an underlying political message of LGBT+ acceptance around the world. During this show, Rahim showcased his incredible dancing skills which he again used during this performance. Throughout XXXmas Carol Rahim led belly dancing inspired numbers and was frequently twerking with absolutely incredible to watch! He delivered a wonderfully hilarious poem about a festive act of sex work which was not only hilarious but also explored how the sex industry is still belittled and how we really need to remove the stigma on this career. One of the highlights in this role is the fact that Rahim helped to introduce the Muslim faith into the performance where he discussed to alternative holidays and some of the rules this faith follows. While I am a massive Christmas fan, I need to also remember that there are so many people who do not celebrate Christmas and so for Rahim to focus the audience onto this fact is very important and great to see! Polly and Rahim performed a wonderful performance of the more upbeat version of "One Night Only" which was wonderfully fun and contains some great live vocals.
This retelling of Christmas Carol also had a series of amazing burlesque performances which was delivered by the talented Foo Foo Labelle. The first number in which Foo Foo was dressed as a massive Christmas tree with green balloons all over the costume was wonderfully camp and when they began popping them in time with the music it was very startling to experience. Foo Foo was so wonderfully over-the-top during this performance with the most exaggerated facial reactions I have seen in a long while which helped snatch and maintain the audience attention throughout the unique performance. Polly also worked alongside Foo Foo to deliver another hilarious duet that was based on the classic M&S style adverts. I think that tremendous amounts of praise needs to go to the performer referee simply as Geraint deserves so much praise as he not only was the whipping boy of the show but also managed to play the piano throughout the accompany many of the performers throughout. In a weird sort of way, this character served the same function of Tiny Tim in the original Christmas Carol as they drummed up the sympathy of the audience which helped to really mark the change in Scrooge after his three ghostly visitations!
The fact that XXXmas Carol was able to facilitate numerous aerial performances throughout this show was incredible! Two of the cast were able to showcase incredible trapeze based skills which utilised every each space above the stage itself. In general, I don't know how people are able to performer numbers while swinging so high in the air as even the thought of it terrifies me but that's just me! Eric McGill managed to turn up the steamy nature of the show when he performed a number stripping down to his pants while on a trapeze. This was choreographed to perfection where the removal of his clothes were done during popular trapeze positions which made sense within the overall performance. He stripped down to a pair of sparkly pants that had a wonderful festive jewelled Santa hat on the butt and had everyone in the audience hollering throughout! The other performance in the air was a lot less explicitly sexual with Bunmi Odumosu which a mix more traditional aerial number which was also fantastic to watch! Both Bunmi and Erik are clearly very talented contortionists as during their ground-based number they were both able to bend their bodies into the most impossible positions. This performance was actually very spooky and unsettling to experience which fitted the point in the story perfectly! However, Bunmi's solo performance towards the end of the show was the highlight of her involvement in the show as the dominatrix infused section (complete with working whips) was very erotic and powerful to watch! The end of the show included a sing-along of a rather dirty version of the twelve days of Christmas which had to audience members standing up and shouting the most obscene things you have ever heard!
Overall, XXXmas Carol is a rather unique retelling of A Christmas Carol which I (and Charles Dickens I assume ) would have ever anticipated! When he sat down and wrote this piece of political literature, I don't think Charles Dickens ever thought that there would be a retelling of his highly moral story which was hosted by a drag queen and included a stripping inspired trapeze act, a raunchy M&S style advert sketch or an incredibly vulgar performance of the twelve days of sexmas and in all honesty, neither did I! Due to the wonderful array of performance this has become the new standard for any variety show I see and will not accept anything less! Every performance was unique but the entire show was tied together by the flawless Polly Amorous which shone a totally different light on her which I had not seen before!