THE LOWRY, SALFORD – until 15 JANUARY 2022
REVIEWED BY ANGELOS SPANTIDEAS
4****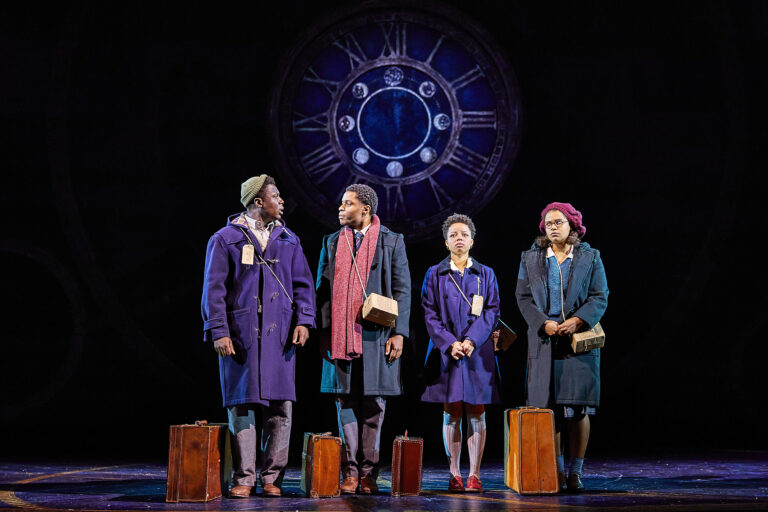 The Lion, the Witch and the Wardrobe is the theatre adaptation of the children's book series, The Chronicles of Narnia by C. S. Lewis, which became massively adored after the movie adaptation and continues to gain popularity to this day. Although the movie was heavily supported by CGI effects, this play had to rely on the creativity of the production and the talent of the actors in order to bring the world of Narnia to life. The set that is constantly shifting to create very diverse scenes, as well as the costumes, are not meant to create a realistic depiction of this fantasy world, but rather work as an usher for the imagination of the audience to paint the details of how Narnia and its heroes look like.
The familiarity that older audiences might have with the script create a place of comfort and excitement for how the story will unfold through the live actors, while for younger audiences the beginning of the story draws a mysterious picture of the upcoming adventure. While the story unfolds the set is transformed in front of the audience's eyes which brings a feeling of magic, with the actors flying and at times even using real life magic tricks and illusions that make people disappear and things burst to flames. At the same time, the songs and the live orchestra amplify the mystical performance, with the actors giving an astounding performance singing and dancing, while also bringing the musical instruments on stage.
Samantha Womack as the Witch does embody the evilness and toughness of her character, while Chris Jared as Aslan manages to convince the audience of his courage and strength as the lion, with the lion puppet moving with elegance on stage next to him. The four siblings set out to become the kings and queens of Narnia, Ammar Duffus, Shaka Kalokoh, Robyn Sinclair and Karise Yansen, bring the freshness and niceness of the characters to life and play the complicated and turbulent sibling relationship to every detail.
The drawback of trying to bring a book series into a theater is that although all main parts of the book have made it into the show, the story seems rushed and not enough time is given for key events to be established in order for the intended messages to come across. Nevertheless, taking into consideration that the target audience of the play is younger viewers, the story is easy to follow and does not maintain unnecessary material that is difficult to comprehend.
This play is a perfect opportunity for the whole family to venture into a world of adventure and fantasy, with its festive details and the deeper meaning making it an excellent Christmas choice that can be enjoyed by people of all ages.