Edinburgh Fringe Festival
Gilded Balloon Patter Hoose (Doonstairs), Venue 24 – until 21 August 2022
5*****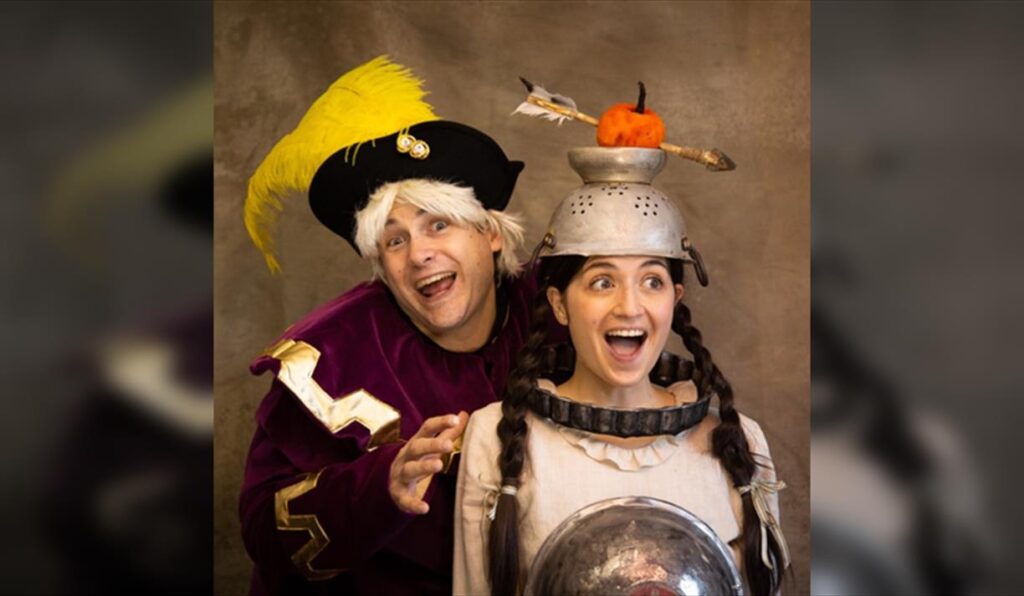 Theatre Fideri Fidera present this new twist on the classic tale of William Tell written by Colin Grainger. This is a show aimed at children, but even us bigger kids enjoyed it.
Natasha Grainger stars as Wilhelmina Tell the daughter of William, who is currently locked away in the deepest, darkest dungeons of Baron Boris von Bummelkrachenhofer (Jack Faires). In order to rescue her father, Wilhelmina disguises herself as the brave knight, Will von Pumpernickel and challenges the Baron to a joust. Astride her donkey Rosina, Will must save the day.
Along the way, Will catches the eye of the Baron's daughter Edeltraut (also played by Faires) who bares a striking resemblance to her father.
With the help of the audience, Will rescues her father and Edeltraut and they all return to the family farm with Rosina and the Baron's stallion Prinz, where they all live happily ever after.
The horse and donkey are a triumph, dressed up bikes by Mike Patterson and a simple but effective set by Paul Harrison.
This is a lovely feel good tale for children, with multiple life lessons that girls can do anything, its okay for Edeltraut to fall in love with Wilhelmina and that good will always conquer evil. Take your children along to the Gilded Balloon to enjoy this sweet story