Alhambra, Bradford – until 30th July 2022
Reviewed By Katie Goldsbrough
5*****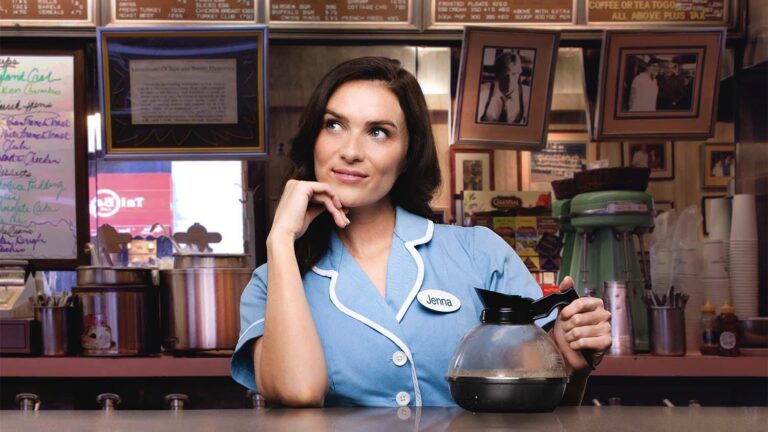 Waitress is currently on its first UK tour after a successful run in the West End, telling the story of Jenna Hunterson (Chelsea Halfpenny), a Waitress working at 'Joe's Diner'. In an abusive relationship, Jenna suddenly finds out she's pregnant and begins looking for a way out. She starts an affair with Dr. Pomatter, her gynaecologist (David Hunter), and begins to see what life could be like without husband Earl (Tamlyn Henderson). 
Jenna builds a friendship with the owner of the diner, Joe (Michael Starke) and he suggests she enters a pie making contest as a way to make some money and hers are the best pies he's tasted. With a £20,000 prize this could be her chance to start a new life. Helped and supported along the way by fellow waitresses Becky (Wendy Mae Brown), who is struggling as a carer for her husband and Dawn (Evelyn Hoskins), who has never had a boyfriend. Waitress is funny, emotional and heartfelt. It's a great example of women standing up for themselves and making themselves happy. The love and support the female characters have for one another is evident throughout.
Overall, Waitress is a feel-good comedy musical, with the darker domestic abuse well-handled and supportive. 
The cast are superb, the chemistry between Jenna and Doctor Pomatter is clear and you find yourself routing for them despite them both being married. With music and lyrics by Grammy Award winner Sara Bareilles you'll find lots of catchy songs including 'Opening Up' and 'She Used to be Mine' and with the band on the stage, they become part of the story leading to fantastic music from start to finish.
A simply wonderful production that will leave you craving a slice of pie!