Sheffield Lyceum – until Saturday 30 July 2022
Reviewed by Lottie Davis-Browne
3***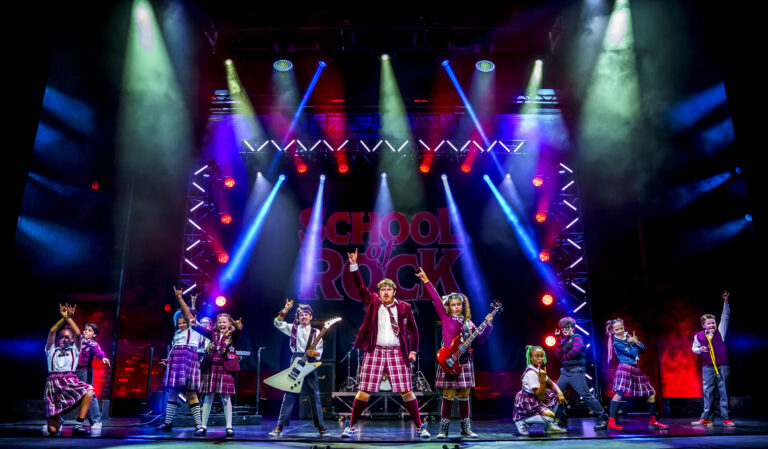 I came, I saw….I totally wanted to rock…but….
It's hard to believe that it's as back long ago as 2003 that Richard Linklater's totally kick ass movie of the same name hit the big screens. Back then I had no idea of who Jack Black was – despite his band Tenacious D being on the scene long before School of Rock premiered, his band isn't my style of music so I'd never stumbled across him before but before we'd even met the films Summer and the rest of Horace Green's privileged kids, I was hooked on Black as a performer.
Flash forward to 2016 and after a successful stint on Broadway the stage musical adaptation finally arrived in Londons' West End. I'll be totally honest and say I had absolutely zero desire to see it at this point. I have a bit of a "thing" against seeing shows that are predominantly a large cast of children. I am glad to discover this is not just myself who has this "thing" – several of my regular theatre going friends all say the same thing. Yes it's great to see such talented young performers on stage who could later go on to be the next Elphaba in Wicked or the next Hamilton in the West End – but it's just how stage schools mould these young performers and how songs often appear "shouty" and reactions to things overly exaggerated – not to mention if they're also tasked with maintaining an American accent meaning words can often become difficult to understand. The amount of times I've had to suffer Matilda's "When I Grow Up" and "Revolting Children" at West End Live the many years I resided in London and this was an annual event for me. It was enough to make me say I categorically do NOT wish to endure watching the musical in full. The same goes for School of Rock when I've seen snippets of the live show in person.
But something in me changed suddenly and I had the overwhelming urge to get to see School of Rock on tour. So the fact it was coming to my now hometown of Sheffield, I was as giddy as a kid in a candy store.
For those who haven't seen the movie, the story is centred around ageing wannabe rockstar Dewy Finn, once part of a band "No Vacancy" but kicked out for no longer being deemed as credible amongst the in crowd. Dewy is a a jobless slob, living with old ex band mate and High School best friend Ned Schneebly and Ned's girlfriend Patty. Struggling to pay his rent and being hounded by Patty to pay up or leave, Dewy takes a gamble when answering a call from the prestigious Prep School Horace Green. The call was for Ned, a qualified teacher who is currently working as a substitute teacher. When Dewy hears that the salary is just over $2,000 a week, he has a lightbulb moment and comes back to the call claiming to be Ned. What could possibly go wrong?!
When Dewy (acting as Mr Schneebly) hears the classes incredible musical talents (granted it's all classical music), he has a new found enthusiasm for the role and gets the brainwave that he can compete in an upcoming Battle of The Bands competition.
Watching Jake Sharp as Dewy is like watching Jack Black in the role. I didn't think anyone could play the role as well as Black does, but Sharp has proven otherwise. He goes from being a useless slob to someone who you suddenly see in a different light and have total respect for. Sure so Dewy totally lies about being qualified to teach and goes totally off the curriculum agenda to focus on music, however what he does teach the kids is how to love themselves for who they really are. Shy Tomika, the new student at Horace Green, adopted by a same sex couple, arrives and doesn't speak to fellow classmates until Dewy literally helps her find her voice – and what an outstanding voice it is indeed – Tia Isacc (the young actors are a three different groups of children who share roles with two or three others, each doing so many different dates to allow ample time off in-between to rest) – tonight's Tomika – gave a tear jerking rendition of "Amazing Grace". Tia certainly is a triple threat young upcoming actress in the making. Not only has she a voice worthy of any solo song, she's also a convincing actress and totally kick ass dancer.
Whilst Summer (tonight played by Evie Marner), doesn't take to the sudden lack of routine and discipline usually the norm at Horace Green with Dewy's (Mr Schneebly) arrival but when given the chance to shine as Band Manager, she takes to the role like a duck to water and when the band risk missing out of the competition, she stays loyal to her band mates and ensures their performance still goes ahead. Zack (Hanley Webb) has a strict father who has little time for Zack, and therefore Zack bottles his feeling up inside but when given the chance to shine on guitar, he shows he's actually a real musical prodigy and ends up writing the bands anthem "Teacher's Pet".
Billy (Wilf Cooper) is a flamboyant boy with a real love of style (he hides his copy of Vogue behind another magazine so his Dad doesn't judge or mock him). Wilf has the campness of Billy's character mastered to perfection and he's an utter joy to watch.
As the pre-recorded message from Andrew Lloyd Webber at the start of the show reminding the audience, that yes, the children in the band DO play their instruments live in the show – I'm so glad this was included so they can get the recognition they truly deserve. These kids certainly give the adult cast members a lesson in "Stick(ing) It To The Man".
A real highlight for me in this ALW musical has to be Becky Lock"s outstanding operatic vocals – with "Where Did The Rock Go?" being the most stand out performance of the night for me. I've had the honour of seeing Lock in several roles including Veronica in "Heathers" (West End) – another film to stage musical adaptation – which I absolutely loved – to Kate in "Kiss Me, Kate" (Sheffield's Crucible) – a musical I didn't enjoy other than Lock's vocals.
Overall School of Rock is the perfect way to rock your way into the summer holidays – one that school aged audience members will absolutely love – but for the grown ups? For me it's a musical I'm glad I've seen and can tick off my list, but It didn't rock my socks off so to speak. It just felt like a certain je ne sais quoi missing to it. Other than the songs from the movie version and Lock's stand out solo performance, the music wasn't particularly memorable and I kept waiting for an outstanding moment to happen which never came.
At Sheffield's Lyceum until 30th July, it's one to see with pre High School kids as I feel it will appeal to that age group the most.