VICTORIA BLUNT TO PERFORM VANYA
FOR AN ADDITIONAL PERFORMANCE
ON 6 OCTOBER AT DUKE OF YORK'S THEATRE
Wessex Grove, Gavin Kalin Productions and Kater Gordon today announce that Victoria Blunt will perform a public understudy performance of Chekhov's VANYA adapted by Simon Stephens at the Duke of York's Theatre on 6 October at 3pm. As with the first West End performance by Andrew Scott, all tickets will be £10.
Comedic and tragic, Chekhov's examination of our shared humanity – our hopes, dreams, regrets – is thrust into sharp focus in VANYA.
Directed by Sam Yates, assisted by Francesca Hsieh, this critically acclaimed production explores the kaleidoscope of human emotions, harnessing the power of the intimate bond between actor and audience to delve deeper into the human psyche.
Wessex Grove, Gavin Kalin Productions and Kater Gordon present
VANYA
After Anton Chekhov
Adapted by Simon Stephens
Performed by Andrew Scott
Directed by Sam Yates
Designed by Rosanna Vize
Lighting designer: James Farncombe
Sound designer: Dan Balfour
Video designer: Jack Phelan
Movement: Michela Meazza
Costume designer: Natalie Pryce
Associate designer: Blythe Brett
Assistant director: Francesca Hsieh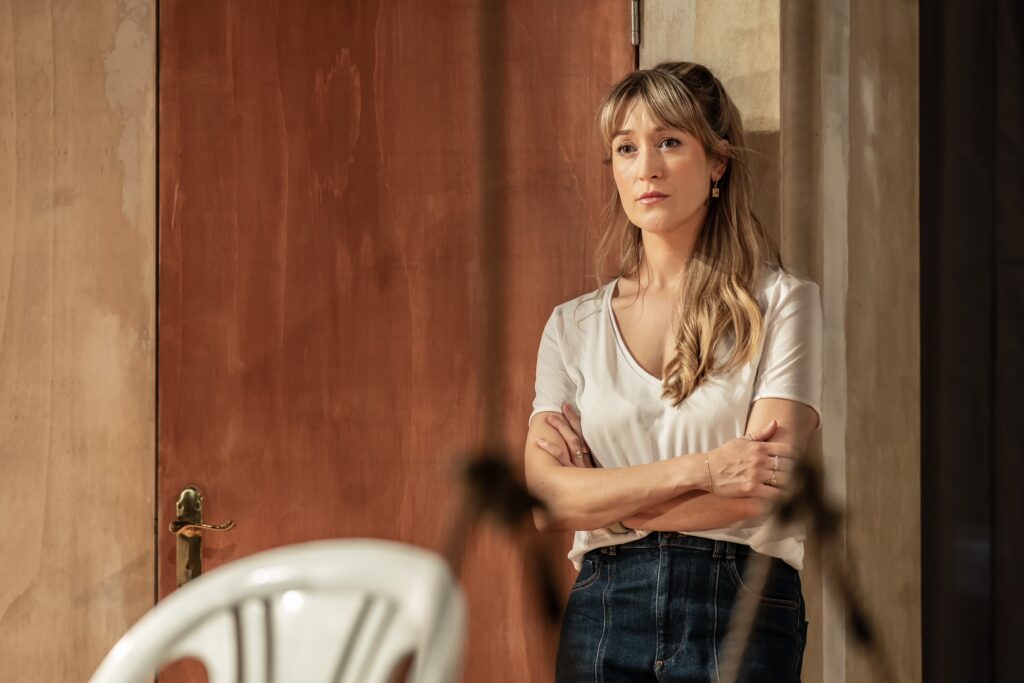 Victoria Blunt's theatre work includes A Midsummer Night's Dream, Romeo and Juliet, Macbeth (The Watermill Theatre), Newsrevue (Canal Café Theatre), Passion (Oxford School of Drama), Ratchet (Soho Theatre, Oxford School of Drama), Once Upon a Christmas (Unicorn Theatre), Love's Labour's Lost (Oxford Shakespeare Company), Dead Funny (Vaudeville Theatre), Lady Windemere's Fan (Classic Spring Theatre Company), Twelfth Night (The Watermill Theatre, Wilton's Music Hall), A Christmas Carol (RSC) and Prism (Hampstead Theatre). For television, her work includes Borderline and Flowers in the Attic – The Origins; and for film, Ammonite.
Simon Stephens' plays include Cornelia Street, Morning Sun, Fortune, Light Falls, Maria, Fatherland, Rage, Heisenberg, Nuclear War, Song from Far Away; Birdland, Carmen Disruption, Blindsided, Morning, Three Kingdoms, Wastwater, Punk Rock, The Trial of Ubu, Marine Parade, Sea Wall, Harper Regan, Pornography, Motortown, On the Shore of the Wide World, One Minute, Country Music, Christmas, Port, Herons, and Bluebird. He has adapted Jose Saramago's Blindness for the stage and also Mark Haddon's The Curious Incident of the Dog in the Night-time. He has written English language versions of Jon Fosse's I Am the Wind; Odon Von Horvath's Kasimir and Karoline (titled The Funfair); Henrik Ibsen's A Doll's House; Anton Chekhov's The Cherry Orchard and The Seagull and Bertolt Brecht and Kurt Weill's Threepenny Opera. He has presented four series of the Royal Court Playwright's Podcast. His book "A Working Diary" is published by Methuen. Stephens has been an Associate at the Royal Court, London and Steep, Chicago and a board member of Paines Plough. He has been an Associate Artist at the Lyric, Hammersmith, a Professor of Scriptwriting at Manchester Metropolitan University and an Associate Professor at the Danish National School of the Performing Arts, Copenhagen.
Sam Yates directs. His theatre credits include The Two Character Play (Hampstead Theatre), A Separate Peace (Curtain Call & Platform Presents), Incantata (Irish Rep, Gate Theatre, Dublin, Galway International Festival & Jen Coppinger), The Starry Messenger (Wyndham's Theatre), Company, Merrily We Roll Along, Assassins (Royal Academy of Music), The Phlebotomist (Hampstead Theatre, nominated for Olivier Award for Achievement in an Affiliate Theatre), Glengarry Glen Ross (Playhouse Theatre and UK tour), Desire Under The Elms (Sheffield Crucible), Murder Ballad (Arts Theatre), Cymbeline (Sam Wanamaker Playhouse), East is East (Trafalgar Studios and UK tour), The El. Train (Hoxton Hall), Outside Mullingar (Ustinov), Billy Liar (Royal Exchange Theatre), Cornelius (Finborough Theatre, 59E59 New York), Mixed Marriage (Finborough Theatre), and Purgatory by W.B. Yeats, and Macbeth: The Hour (Edinburgh Festival Fringe). His screen work includes the forthcoming Magpie (2023, feature film debut, written by Tom Bateman, produced by Werewolf Films and Kate Solomon for 55 Films, with Daisy Ridley, Shazad Latif, Matilda Lutz), Agatha and the Curse of Ishtar, The Hope Rooms, (Winner Grand Prize Future Filmmaker Award, RIIFF 2016), Cymbeline, All's Well That Ends Well, and Love's Labour's Lost (The Complete Walk, Shakespeare's Globe); and music videos Emeralds and Auld.
Rosanna Vize's theatre credits include Julius Caesar (Royal Shakespeare Company), The Glass Menagerie, The Almighty Sometimes (Royal Exchange Manchester), King Priam (ENO), Britannicus (Lyric Hammersmith), Brown Girls Do It Too (Soho Theatre), Mavra and Pierrot Lunaire (Royal Opera House, Covent Garden),Gulliver's Travels (Unicorn Theatre), Camp Siegfried, Midsummer Party (The Old Vic), Cat On A Hot Tin Roof (Leicester Curve Theatre), The Two Character Play (Hampstead Theatre, Upstairs), Cat on a Hot Tin Roof (Curve Theatre and UK tour), Shedding A Skin (Soho Theatre), The Enemy (National Theatre of Scotland), Harm (Bush Theatre), The Comeback (Noël Coward Theatre), Incantata (Irish Rep Theatre, NYC), Hedda Gabler (Sherman Theatre), The Phlebotomist, Yous Two (Hampstead Theatre), The Audience (Nuffield Theatre, Southampton), Don Carlos (Exeter Northcott), Incantata (Galway Festival), An Adventure, Leave Taking (Bush Theatre), King Lear (Shakespeare's Globe), Earthworks and Myth (RSC), Low Level Panic (Orange Tree Theatre), After October (Finborough Theatre), Henry I (Reading Between the Lines), and Girls (Soho Theatre, Hightide & Talawa Theatre). For film, Harm Film. Her up-coming productions include The Turn of the Screw (Royal Danish Opera, Copenhagen), and Macbeth (Donmar Warehouse).
Listings Information
VANYA
Duke of York's Theatre
St Martin's Lane, London WC2N 4BG
TICKETS: £10