Mayflower Theatre, Southampton – until Saturday 30 September 2023
Reviewed by Joanna Huggett
4****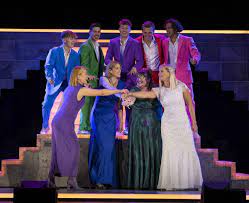 My 14-year-old daughter and I went to see Greatest Days in Southampton, and we really enjoyed the show. We thought the acting, singing, and dancing were great, from all members of the cast. We particularly enjoyed the performances by Jennifer Ellison as Rachel, and Olivia Hallet as young Rachel. In the 'Boyband' we particularly enjoyed the dancing of Archie Durrant, and the singing of Jamie Corner.
The set was effective, and cleverly thought out. We liked the fact that the Boyband were on stage singing, whilst acting was going on around them. We liked the way the costumes were similar colours for both the younger and older versions of the main characters. The music and band were great, and we enjoyed all the songs that we know so well.
The story line was clever, and the main characters acted well. The show was quite touching in parts, and the cast cleverly portrayed losing their friend. We enjoyed following the main characters through their lives and meeting up after 25 years. We enjoyed listening to them share stories and reminisce about their childhoods, and the Boyband that brought them together.
Overall, we thoroughly enjoyed the show, and couldn't fault it. All the cast members put in maximum effort and had the whole audience on their feet for the finale! A real 'feel good' show! Go and see it!