Lyceum Theatre, Sheffield – until Saturday 8 October 2022
Reviewed by Lottie Davis Browne
5*****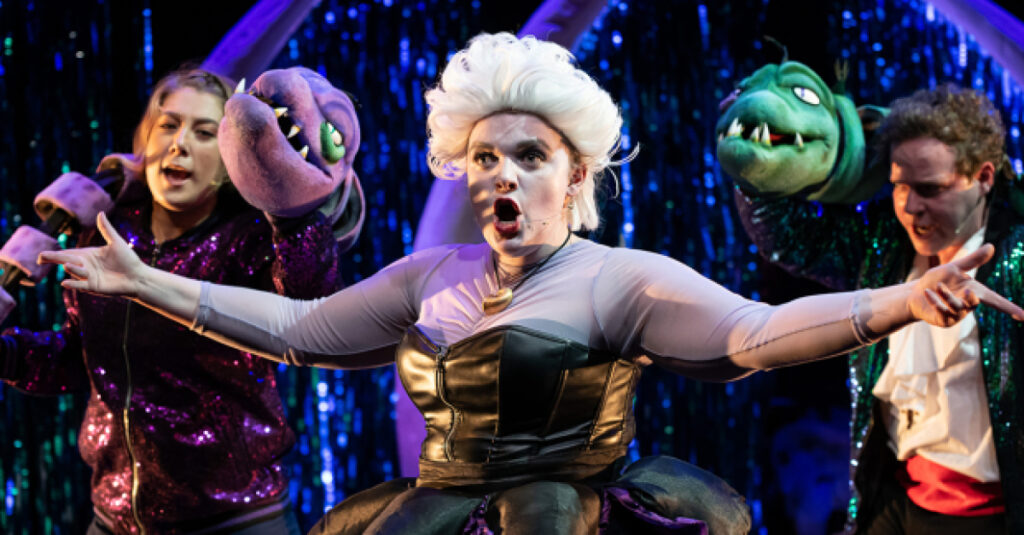 Last night I was fortunate enough to catch the touring production of Fat Rascal's UNFORTUNATE: The Untold Story of Ursula the Sea Witch.
There were two reasons I just HAD to see this fresh new musical. Firstly – ever since being introduced to the musical genius that is Fat Rascal a few years ago, with laugh out loud musical – "Buzz – The History of the Vibrator" – I've been left wanting more. Just as with Buzz, I knew to expect copious amounts of adult humour, side splitting one liners and fresh pop style musical numbers. Unfortunate did not fail to deliver on all elements.
My second (and main reason) I was so eager to see this show was down to their latest recruit – George Whitty (aka King Tritan), who I met by chance some ten years or so ago he was part of a youth performing arts company a friend of mine was a chaperone for. George was studying Performing Arts at college at the time with the plan to then gain a place at one of London's many prestigious Performing Arts and Music Schools. After seeing his performance as Jean Val Jean in Les Miserables I was blown away by his voice, matched with his acting and dance skills and was keen to see him perform again, so much so I enrolled with the group as chaperone for their next production – Phantom of The Opera; again with George in the lead role.
Watching George develop and grow as a performer was something truly magical and I knew he was destined to go far.
Just as with Wicked we we get to see Elphaba (The Wicked Witch of the West) from a different perspective and see her in a whole new light – to the point where the audience end up favouring her over any other character in the Wizard Of Oz.
Unfortunate does the same. Although to be fair she's literally the most adored Disney Villain there is.
Fresh from Edinburgh Fringe, with just a cast of six – most playing several roles with heaps of lightning fast costume changes, this is a true fringe show. Each actor performs each role so convincingly, that the show has already earned a cult following and has the soundtrack on Spotify, and the show is usually met with standing ovations (last nights opening performance at Sheffield's Lyceum – a near sell out), was no different.
Written by Robyn Grant and Daniel Foxx, Unfortunate is a wickedly sexy new musical with killer costumes, copious amounts of adult humour, the story tells of how Ursula came to be and what twenty years of mistaken identity and a deal promise between two star crossed lovers. We get to see Ursula in a different light, whilst finding Ariel both irritating yet so funny with it.
It's woke, it's vulgar, it's fishy, it's pure genius!
At this evenings performance we got to see Robyn Grant (alternate Ursula) in the title role – which is exactly who I was hoping to see in this role out of the cast of six. Ursula is a mix between Bette Midler and Dolly Parton – just as voluptuous but with eight tentacles. She's a saucy temptress who knows exactly what she wants and just how to get it. Every other line she says had the audience in loud roars of laughter – this is a role Grant was born to play – I could've listened to her filthy humour all night long. Miracle Chance brings to life an Ariel you both love and loathe at the same time – with an annoying voice and the singing voice of an X Factor reject, Ariel is a dim witted Daddies girl who dreams of going to the "land of dick" and live a life on land where she'd be able to get as much dick as she can handle (which we get the feeling is a hell of a lot!). Think Stacey Solomon on crack and you're halfway there. Allie Dart plays Sebastian the Crab, along with various other roles, often with speedy costume changes, Sebastian seems to suddenly be Irish and not the best friend Ariel believes him to be, when she, Tritan and Ursula devise a plan against Ariel's behaviour.
George Whitty shows that his years of vocal training and theatre studies have been worth his while – his voice is truly something spectacular that has to be seen to be believed. This guy could easily take on any vocally challenging West End lead role with ease. The pairing of Whitty and Grant is pure heaven – it's been years since such raw talent has come to Sheffield and I hope to see more of Fat Rascals productions in Sheffield – minus the long gap following their last Sheffield visit for "Buzz".
My only criticism – and this is more down to the theatre than anything- is something I've had issues with for some time now – the lack of sound in the stalls on the far side (closest to the accessible toilets and the only wheelchair accessible seats in the stalls) to the point we often found ourselves missing the jokes or song lyrics which obviously took some of the enjoyment out of the otherwise outstanding musical. Had we been closer to the front (and not under the Dress circle) this most likely wouldn't have been an issue – but it's getting a long running issue for myself in this particular theatre. If only this production was here for more than a week, I'd be doing all I could to get back and see it again sitting closer to the stage or speakers but I don't have any free time for the rest of its run. Despite this technical issue which is out of the hands of the production company, I highly recommend this fresh new musical. Just leave the kids at home…!
I now eagerly sit following Fat Rascal on social media – thirsty for my next fix.
Playing at Sheffield's Lyceum Theatre until Saturday 8th October 2022.