The Cast, Doncaster – until October 1st 2022
Reviewed by Janina Cairns
4****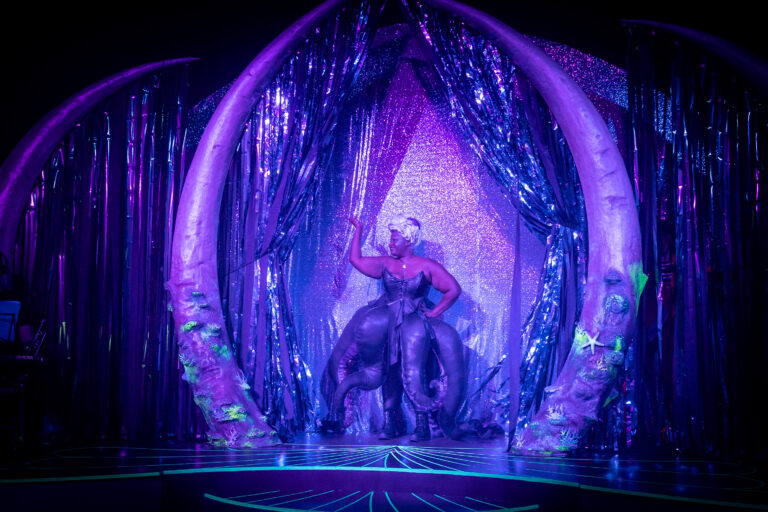 This show tells the story of Ursula the Sea Witch from the story of The Little Mermaid. The show is a musical and a parody of the story and has Ursula, obviously as the main star. It has an age recommendation of 16+ which gives you an idea that this won't be a fluffy family show. The basic story starts back when Ursula wanted to be a suitor for the Price of Atlantica. They have a bit of a connection, but the King frames her for murder and her heart turns cold. From there she is banished to the dark depths of the sea. Fast forward 20 years and that's when the pact with Ariel is done. We all know Ariel gets her Prince Eric, but will Ursula? I won't spoil the ending, so get your tickets and check for yourself.
The cast is small, 7 in total, interchanging various characters. The cast comprised of Miracle Chance (Ariel), Allie Dart (Sebastian), Robyn Grant (Ursula), Jack Gray (Scuttle), Jamie Mawson (Prince Eric), Danni Payne (Various parts) and George Whitty (Prince Triton). Robyn Grant who is also the Director of the show, has stepped in to play Ursula as their lead who was to play Ursula is unfortunately ill. Robyn did a wonderful performance. This is not surprising as I found out she co-wrote the script and lyrics. The songs in the show were catchy, original and funny.
The set backdrop was the same throughout and was 4 arcs on each side decreasing in size to represent the suckers of an octopus. At the side of the stage, visible throughout were the 3 musicians. The set looked quite effective. Throughout the show they brought various props on, quick assembly, use them, disassembly, props off. Seamless.
The show is a little rude, has subtle innuendoes and the occasional swear word. It takes a few good-humoured digs at the fact Disney is all sweetness and light but not necessarily inclusive.
This comedy has some good laugh out loud moments. The expressive performance by the whole cast was genius. I felt it gave a nod to the good old fashioned slapstick comedy of Norman Wisdom era. Their use of the puppets was very well choreographed. The costumes were totally original and well thought out.
The only thing that let it down for me, was the sound. Although they were all singing and acting well, sometimes I found the dialogue and lyrics weren't as clear as they could have been. Not all the way through, just on occasion. Now, that could have been the acoustics of the room or possible the mic quality. I can't say for sure.
But, in short, if you fancy a bit of sassy, saucy fun and don't mind your childhood memories of The Little Mermaid ruined (ha ha) then go along for some light-hearted entertainment. It is well worth a watch.