MAST Mayflower Studios, Southampton – Until 17th September 2022
Reviewed by Sally Lumley
5*****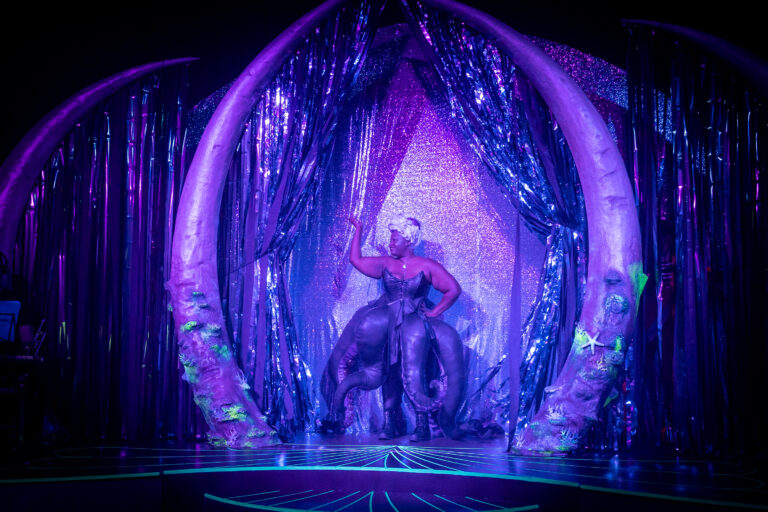 Unfortunate, from Fat Rascal Theatre and Wildpark Entertainment, is a modern re-imagining of Disney's Little Mermaid that never takes itself too seriously. Anyone expecting the original will be shocked by this saucy adult take on the classic fairytale, told from the perspective of Ursula the iconic sea witch. As one of the songs says – these are the creatures that Disney don't show.
The narrative goes beyond the movie, imagining a history where King Triton (George Whitty) and Ursula (Robyn Grant) become close to marriage before being forced apart, and Ursula becomes a sea witch spurned. Ariel (Miracle Chance) becomes a Towie-style teen not at all suited for the throne, and Prince Eric (Jamie Mawson) is a vacuous man-child obsessed with his flute. The cast is completed by Allie Dart as an Irish Sebastian the crab, and Jack Gray as Scuttle the seagull. The multi-talented cast were enjoying themselves and it was infectious. They took on several roles, all with superb voices and perfect comic timing. Robyn Grant shines in the lead role; she is the camp vamp we all remember from the movie, working the tentacles and beehive, and smashing out some amazing vocals. For anyone who saw the movie as a child, and grew up wanting to be Ariel, this show makes it clear that the real role model was Ursula all along; there's no doubt in my mind which queen I would rather be.
The score parodies the songs from the Disney movie so cleverly that sometimes it is easy to forget that they're not the originals, that is until you pay attention to the adult lyrics! However, the new material provides some of the strongest musical moments in the show. Unfortunate has echoes of more established musicals, from the rise of the villain in Wicked, to the queens taking back their own destiny in Six, and it more than holds its own in their company.
The staging is small and intimate, with the band on stage throughout. Costumes (designed by Cory Shipp) were ingenious. Who knew that with a few sequins and little wiggle you would forget you weren't actually watching mermaids on stage? Puppets are also used with great effect, to bring to life the creatures of the deep.
Unfortunate is a timely tale of royal succession, chock full of dark humour and catchy songs. The humour is sometimes crude but always tongue in cheek, and the audience are in on the joke. While it might not be for everyone, once the shock value wore off the audience in Southampton last night were lapping it up. Unfortunate is an absolute triumph of fishy, flutey, filthy fun. The unexpected theatre highlight of 2022.