Hull New Theatre – until 24th September 2022
Reviewed by Catherine McWilliams
4****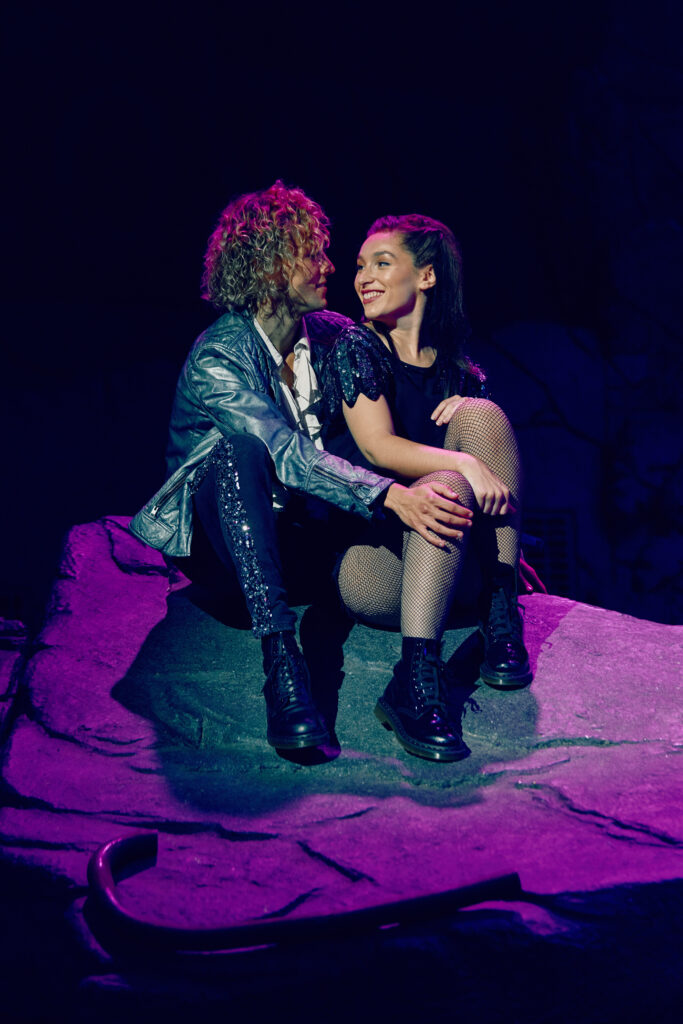 Jim Steinman's musical Bat Out Of Hell roared into Hull New Theatre last night, establishing its credentials from the opening minutes – this was going to be a dark ride.
Bat Out Of Hell tells the story of Strat (Glenn Adamson) the leader of The Lost (teenagers forever destined to stay the age they were when chemical warfare altered their DNA) and his love for Raven (Rebecca Lafferty) the daughter of Falco (Rob Fowler) the dictator of the city. The Lost are clearly based around Peter Pan's Lost Boys and the story has a nod to Romeo and Juliet and with Raven being kept in her high tower fairy tales of old, but this story is so much darker than any of these.
It is set in the dysfunctional dystopian city of Obsidian (formerly Manhattan) with a large part of the action taking place in the disused subway. Edward Pierce's set design reflects this so well, even the scenes set in Falco Towers appear sombre with Raven's bedroom being to the side of the stage and the action being filmed and shown on a large screen above the main stage. On a personal note, I did find this screen quite difficult to watch as you were then missing the action taking place on the stage, or you watched the stage and missed the action in the bedroom. This is a show that involves violence and blood, and one which emphasises how dark and distressing some of Jim Steinman's lyrics are.
Above all though it is Jim Steinman's music that is the star of this show and it is performed superbly by all the cast and the Band (ably led by Lestyn Griffiths), with not a note out of place and delivered with so much emotion. I promise you will be blown away by performances of Bat Out Of Hell, Dead Ringer For Love, and the finale of You Took The Words Right Out Of My Mouth and much more beside. Make sure you listen to the lyrics, these songs have been part of my life for so long but I'm not really sure I ever appreciated exactly what they were about before this show. Be warned though at times the music is so loud that your body will vibrate as it pulses through the theatre and your hearing may have gone by the end of the show!
Glenn Adamson is utterly magnificent as Strat, his eyes flashing wildly as he throws himself around the stage and what a voice. This was an amazing performance and it was absolutely riveting to watch. He could have been one of those outrageous 70's rock stars, this was spot on.
Rebecca Lafferty played the soon to be 18-year-old superbly, with the right amount of idealism and irritation with her parents. She has a powerful voice which blended beautifully with Strat's. A name to watch for in future.
Rob Fowler was perfect as Falco, suitably nasty as he dispatched his men to destroy The Lost but with the odd touch of humanity. He has a beautiful voice and his duet with Sharon Sexton (Sloane) of What Part Of My Body Hurts The Most was one of the stand out pieces for me. Sharon Sexton was so believable as Sloane and her singing voice is stunning.
A shout out should go to Joelle Moses (Zahara) and James Chisholm (Jagwire) who performed stunning duets of Two Out Of Three Ain't Bad and Dead Ringer For Love. Such beautiful voices blending together and my goodness what a stunning range Joelle Moses has.
The ensemble provided sterling support and their heart-breaking rendition of Objects In The Rear View Mirror Appear Closer Than They Are was just superb.
Bat Out of Hell is loud, sometimes brash, definitely over the top and majorly bonkers but it is an absolutely brilliant night out. The music will just blow you away and if you are a rock fan this is a must-see show.