Hope Theatre – until 3 December 2022
Reviewed by Claire Roderick
3***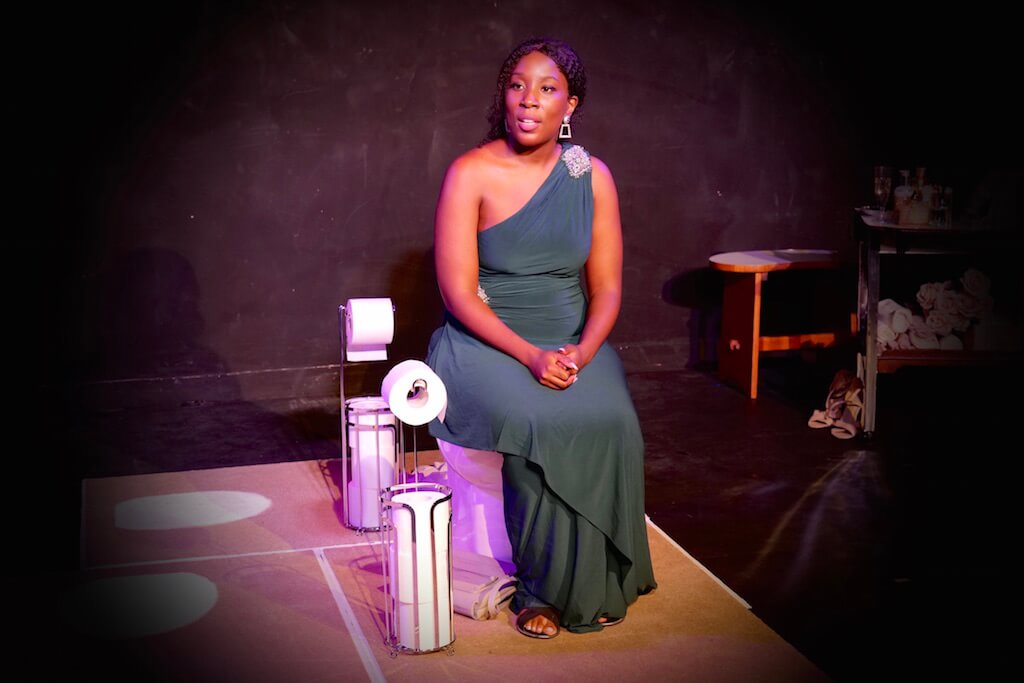 Making a speech is a nerve-wracking experience for lots of people, but when the speech is celebrating a mother whose parenting has left you damaged, it's a nightmare. Cheryl May Coward-Walker's debut play, set in a wedding venue bathroom, sees Rosemary (Princess Donnaugh) last minute preparation of her speech – and herself – at her mother's wedding. Her grandfather's recent death means she is making a speech, so naturally she locks herself in the bathroom with champagne and cake.
Princess Donnaugh makes Rosemary sympathetic and relatable from the moment she bursts onto the stage. Paula Chitty's set design has all the abandoned paraphernalia of the latter stages of a wedding party and makes it easy for the audience to buy into the situation, and Simone Watson-Brown's assured direction allows the story to flow like an incredible TMI encounter with an over-sharing stranger after a few drinks. Using the audience as a sounding board, Rosemary rehearses some celebratory phrases before abandoning her original speech and explaining her difficult relationship with her mother. Told in verse, the narrative mostly works, although there are some shoehorned rhymes that jar a little. This is easily forgotten and forgiven thanks to Donnaugh's natural and charming performance. Details of the emotional abuse she and her siblings suffered is detailed between her explanations of the reasons for her mother's behaviour – childhood abuse that she has never dealt with. Coward-Walker cleverly keeps the audience wondering whether Rosemary's account of her mother is exaggerated until we "see" her mother on a trip to Nigeria. Rosemary's great plan to visit together to bond and ground themselves is a complete disaster, and her mother's behaviour is exactly as she had hinted. The emotional turmoil of loving someone who cannot love you in the same way, and the co-dependency of the two women is described beautifully. Rosemary's need to be loved and cared for leads to a whirlwind romance and marriage to a man she meets on the ill-fated holiday, but the emotional scars from her childhood put that relationship in jeopardy. It gets very broad during the Nigeria episode, but that is a fantastic contrast to the tightly wound tension of earlier scenes.
There are lots of laugh out loud moments as Rosemary mocks herself and her situation, with some quiet darker emotional revelations that are played exquisitely without the need for the unsubtle lighting changes. It is a testament to Princess Donnaugh's performance that the audience were listening intently as she finally confronted her mother and exposed her true self off stage and whooped along with her as she celebrated her triumph before realising that her mum could never let her have the last word.
An emotional rollercoaster tackling abuse that engages and entertains with a stellar performance from Princess Donnaugh.