Leeds City Varieties Music Hall – until 8th January 2023
Reviewed by Sal E Marino
5*****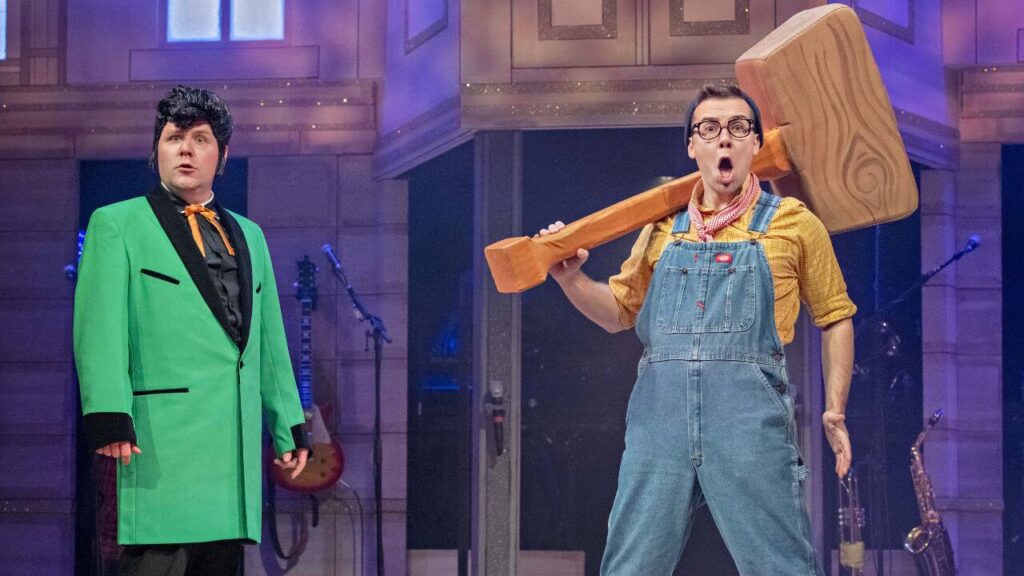 There was an infectious feeling of fun, frivolity and non-stop belly-busting laughter across Leeds last night, as the famous Rock 'n' Roll panto presenting Dick Whittington, was showing at the fabulous City Varieties Music Hall.  After receiving the most festive and friendliest of welcomes from the front-of-house team, an excited audience settled down for what was the best pantomime I've ever seen this December – ha! – only joking – oh no you weren't – Oh yes I … – that's pretty much how it went all night!  And it brought the house down!  It brought the house down because it was traditional but unique.  A 'traditional' panto being 'unique' sounds like a contradiction but it really was!  Where else can you see Tabby the Cat (Rhiannon Hopkins) fighting King Rat (Ben Stratton), who lives in a sewer with a punk band, quickly switching to playing a sax as the Fairy belts out some rock tunes?  
The gags were aplenty and didn't stop.  All the adults were in stitches and bent over double with the constant innuendos so if you easily get offended by such material, then this wouldn't be for you but, if you love a panto because of it's 'traditional' characters with that old style nostalgic humour, then you won't get a better night out until next December either!  After what's feeling like a 'winter of discontent' with all that is happening in our world today, this would be the perfect night out for a works do or with a group of mates.  If you want to forget the blues and the latest 'crisis' and to get the party started instead – then a night out at this panto will definitely get the laughter flowing and everyone up singing and dancing.
The very multi-talented performers made the live music numbers appear effortless and all of the musicians were note-perfect . One wonders just how this is done after performing very physical and challenging all-singing and all-dancing scenes – I really don't know but it was and always is most impressive! Brilliantly written by Peter Rowe and directed by Rob Salmon, this year's Rock 'n' Roll panto really got everyone singing along with a whole jukebox of top hits. The music, directed by Bex Hughes, was outstanding!
Each character was funny in their own right but Simon Nock, as Sarah The Cook, caused a riot on stage – no man is safe! Not for the faint-hearted, he totally embodied his character – not just physically (which was hilarious on sight) but in every scene that Sarah was on stage. You felt like you were at a stand-up comedy show!. Of course, Nock was complemented by an extremely uproarious and side-splitting gang: Kenny Davies as Alderman Fitzwarren , Daniel Miles as Billy Bungalow, Claire Keenan as Alice, Ben Mabberley as Dick,Tim Roberts as Smallpox, James Hudson as Scurvy, Tabby and King Rat (aforementioned) and Lana Walker as the Fairy .
Amongst the jokes (ranging from crazy slap-stick to blue) we also had romance and heart-felt moments which came from the beautiful Alice and Dick. These two didn't fail to deliver the traditional fairy-tale love story we all want to see and due to their chemistry – all believed! There was a dicey episode when Alice was lured into King Rat's lair, which didn't have a pleasant tone but the laughter was restored when Sarah had some romance too – she got her man on stage and made a 'friend' in the audience too! It created lots of funny moments and never ceased to spark lots of laughter.
By the end of the show the whole theatre was bouncing as everyone was on their feet dancing and singing their hearts out.  Simon Nock gave an emotional shout out to Peter Manchester who had stood in and filled his stage shoes for three nights due to recently being in hospital.  There was a rousing applause of appreciation.  So if you want some Christmas cheer or to start off the New Year rocking and jiving, I can guarantee that the Dick Whittington: Rock 'n' Roll Panto will get you into the groove and shimmying down the aisles.