Cambridge Arts Theatre, Cambridge – until Saturday 18 March 2023
Reviewed by Steph Lott
5*****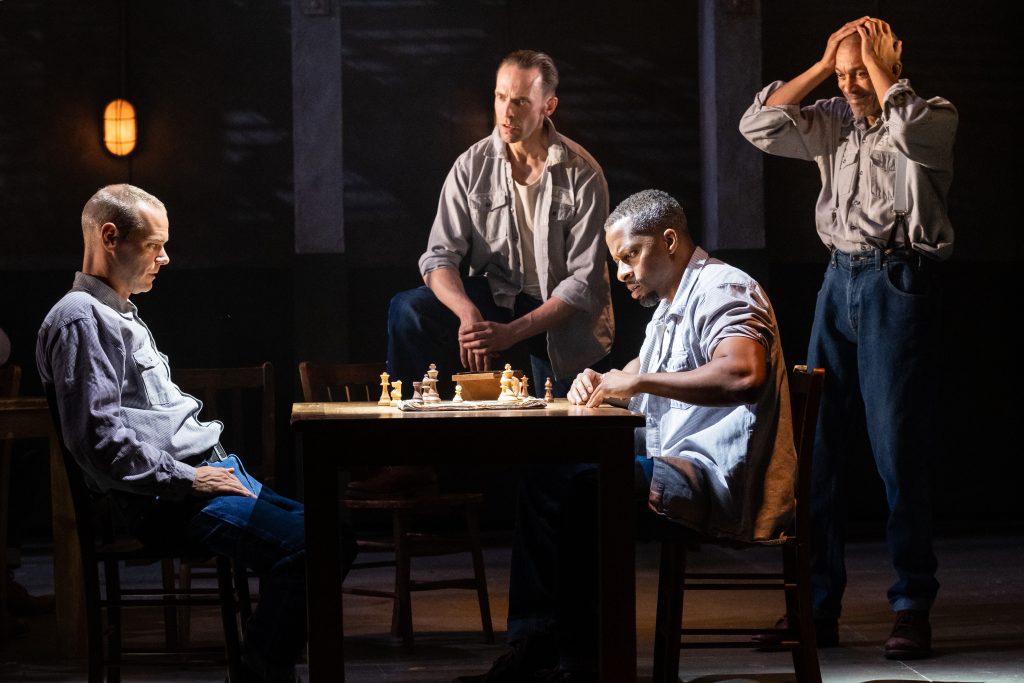 This could be a very short review. In summary, it's a blimmin' marvellous production and you should buy a ticket now, without delay! However perhaps I should say why I think that.
Andy Dufresne has been given a double life sentence for the brutal murder of his wife and her lover. He says he's innocent. Imprisoned at the notorious Shawshank facility, Andy quickly learns that no one can survive alone.
Andy becomes friends with the prison fixer Red and demonstrates his talents for accountancy, talents which come to the attention of the prison governor Warden Stammas. However, Andy is quietly plotting his ultimate revenge.
Based on Stephen King's 1982 novella Rita Hayworth and Shawshank Redemption, this production stars Joe Absolom (EastEnders, Doc Martin) as Andy Dufresne and Ben Onwukwe (London's Burning) as Ellis 'Red' Redding.
This mesmerizing tale of unjust imprisonment, powerlessness in the face of cruelty, and, ultimately, hope and escape, has now been brought to the stage by Owen O'Neill and Dave Johns. The production is directed by David Esbjornson, with design by Gary McCann and lighting design by Chris Davey. The set design is ingenious and the lighting evocative. I wondered how it would transfer to the stage, but it is just as suspenseful, mysterious and heart-wrenching as the Stephen King novella or the 1994 film starring Tim Robbins and Morgan Freeman.
Joe Absolom and Ben Onwukwe deliver equally standout performances, but they are not alone. The whole cast are unforgettable, each in their own way. Mark Heenehan is both pompous and menacing as the cruel and corrupt Warden Stammas. Jay Marsh as Bogs Diamond and Leigh Jones as Rooster are truly vile and mindlessly brutal as the predatory "Sisters." Coulter Dittman shines out as Tommy Williams. The whole cast are truly accomplished.
The play takes place over the course of 20 years and is of necessity a slow burn. But it never flags, and every word and action are flawless. The stage production of The Shawshank Redemption portrays an incredibly harrowing story but the message the play delivers is one of hope.