Cambridge Arts Theatre, Cambridge – until Saturday 25th June 2022
Reviewed by Steph Lott
5*****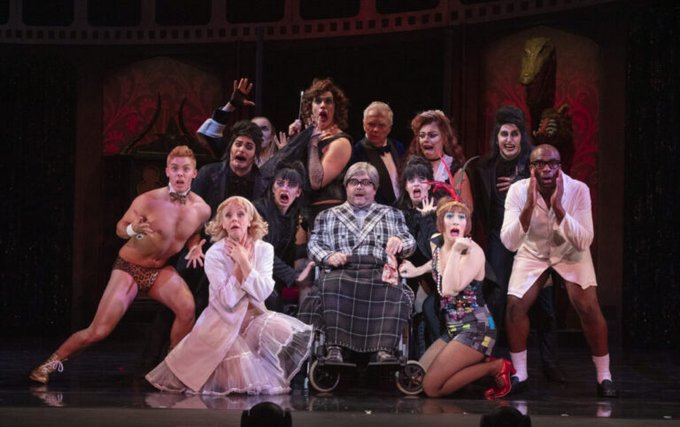 It's hard not to go completely over the top when looking for words to describe this splendid production of Richard O'Brien's masterpiece The Rocky Horror Show, directed by Christopher Luscombe. If your idea of a great night out is wearing fishnets a feather boa and a sparkly hat and shouting out lewd comments to actors in their underwear then this is the show for you!
When we entered the theatre we bumped into a middle-aged gentleman wearing a suit jacket, heels, fishnets and a naughty grin as he flashed us a fine set of buttocks; he was only wearing suspenders and a thong and so we knew we were in for an excellent evening's entertainment and not only from the cast! Audience participation is taken to another level here. For those unfamiliar with this show, in terms of audience etiquette, all bets are off! People will shout, dance, and sing. For this reason, the Narrator, who is our guide into the murky realms of the goings on in the castle, has a key role to play. And Philip Franks did an excellent job. He kept the story flowing, with ad ibs and quips of his own as the audience shouted out.
The story is that two young lovers, Janet (played by Rachel Grundy, I believe) and Brad (played by Ore Oduba) are lost and looking for a phone. They unwisely look for help at a sinister-looking castle. Once inside, they discover a raucous party of strange individuals who introduce their master, Frank N Furter, a magnificently manipulative and masterful extra-terrestrial from the planet of Transexual, of the galaxy Transylvania. Stephen Webb, playing Frank, is brilliant as this twisted warped character, and brought the crowd to their feet throughout with raunchy spotless moves and fabulous vocals.
In fact the whole cast are phenomenal and deserve to be credited for their faultless performance and no-one puts a foot wrong, keeping the vocals and dance moves spot on throughout. There is such charm in the performance of the starring characters and special mention must be made of both Kristian Lavercombe (Riff Raff) and Suzie McAdam (Magenta). Even though they are playing iconic roles they manage to create something fresh – despite the fact that Lavercombe's eternal enchantment with the show has meant he has delivered over 1800 performances!
Rocky Horror is a glorious show. It exists somewhere between glorified decadent trash and mainstream musical theatre and is just as much an experience as it is a performance. Seeing the Time Warp performed by the entire theatre is a sight to see!
Rocky Horror still defies convention. It's drenched in lust and sex and weirdness but has a message which is just as powerful as it always was: Don't just dream it – be it.