EMPIRE THEATRE, LIVERPOOL – UNTIL 10TH SEPTEMBER 2022
REVIEWED BY MIA BOWEN
4****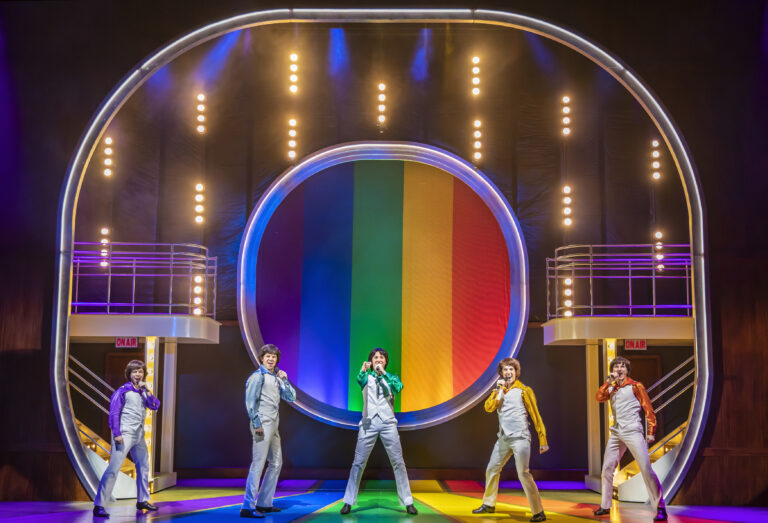 One of music's most famous and well-known families is the subject of a new musical and currently touring the UK. As my friends speak very fondly of this musical family, I was very excited when my turn came to see them at the Empire theatre last night. Despite not being overly familiar with their immense catalogue of songs or their story (shocking I know), I found myself swooning and swaying along with the audience. Written by Jay Osmond himself, this musical allowed me to learn and explore (from Jay's perspective) the highs and lows this family faced.
It is clear from the start, just how close this family is. The setting for this musical sees Jay, performed by Alex Lodge, narrating the story, linking scenes and talking us through the drama. The cast who play the Osmond children are amazing and as soon as they walk on stage, with their red blazers and bow ties, they steal the affection of the whole audience. All with extraordinary voices, Osian Salter (young Donny), Jack Jones (young Alan), Alfie Jones (young Wayne), Harrison Skinner (young Merrill), Fraser Fowkes (young Jimmy) and Tom Walsh (young Jay) show exceptional talent and light up the theatre.
The highlight for me was when the most famous Osmond, Donny, performed by Joseph Peacock sung 'Puppy Love'. It felt like I was at a live gig! The fans, mostly the ladies, went crazy; screaming, whistling, and waving scarves and their hands in the air! Clearly he was the heartthrob of the siblings. However each of the cast showcased their remarkable talent for singing and upbeat dancing. The siblings had an authentic chemistry that bounced off stage, and because they had fun, so did we the audience.
The choreography by Bill Deamer provided the show with a sense of nostalgia, energy and fun. The cleverly designed set, by Lucy Osborne makes you feel like you are either in the audience at a live concert or watching them on the TV.
Ingeniously there is a character Mary from Manchester, who writes fan mail to Jay and links the British fans and the group; the audience could relate to her and her obsession with the band.
I can honestly say, as Osmondmania swept through the theatre, I could not help myself but get up on my feet and be a part of the infectious atmosphere!