The Alexandra Theatre, Birmingham – until Saturday 29th October 2022
Reviewed by Emma Millward
5*****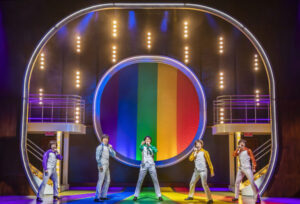 Based on the autobiographical book by Jay Osmond, the show charts the musical family's rapid rise to fame from young children performing as a barbershop quartet on the Andy Williams Show in the 1960s to their meteoric success as a teen idol band in the 1970s, to Donny and Marie's popular variety show from 1976 to 1979.
We see the brothers as young boys with an overbearing ex-Army father/Manager who speaks to them as if they are all soldiers. The story is very much told from Jay Osmond's (Alex Lodge) point of view, who narrates throughout the show. The troupe of actors who played the younger versions of the brothers were all very talented and their barbershop harmonies were spot-on.
The stage was bright and colourful with   a rainbow striped floor with a bold stripe for each of the five main brothers in the band. It made the perfect backdrop for the performances of such songs as 'Love Me for a Reason' and 'Crazy Horses'. The set and flamboyant costume design by Lucy Osborne perfectly captures the mood and style of the era. 
Darker elements of the family's history are explored, including their brush with bankruptcy after they plough all their money into their recording studio, only for it to end disastrously when Donny and Marie's show is threatened with cancellation and some unscrupulous business advice is given to the brothers.
Throughout the show, 'Wendy from Manchester' played with gleeful teenage excitement by Sophie Hirst reads out her letters she sends to Jay to tell him how much his music means to her. This adds a touching element to the show that I am sure a few of the audience members could identify with.
Tristan Whincup (providing perfect understudy duty as Donnie for this performance) and Georgia Lennon both shone as Donnie and Marie, particularly in their solo songs 'Paper Roses' and 'Puppy Love'. The latter of which sent certain ladies in the audience into a frenzy. 
Judging by the screams of adoration from certain members of the audience clad in sequinned hats and scarves, the appeal of the Osmonds has in no way died down over the passing years and the increase in the popularity of jukebox musicals' takes full advantage of this ready-made fan base to the fullest.
The show ended with a lively medley of the brother's biggest hits which got the audience to their feet dancing and singing straightaway. Compared to other jukebox musicals I have seen, this stands up really well against all of them and provides a fun- filled night out for everyone. Whether you are a huge Osmonds fan or not, you will be up screaming along to those 'Crazy Horses' by the end of the show!!