Tanya Moiseiwitsch Studio, Sheffield – until 28th October 2022
Reviewed by Sophie Dodworth
2**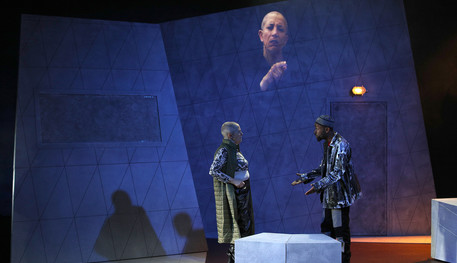 Stopping at Sheffield Theatres Tanya Moiseiwitsch Studio is Quiet Rebels, a new play written and directed by Julie McNamara and Hassan Mahamdallie. A drama based on true-life stories of white women who crossed 'the colour line' to marry men from the Windrush generation. Women who lived with the ignorance of racism and social stigma directed against them and their families, but who are the foundations of today's multi-cultural communities.
Real-life footage of women who experienced racial prejudice opens the show and this is most engaging, the audience respond well to this and alongside the awful racist times these women lived through, true love stories were created and to be told of these was heart-warming.
The setting is a dystopian one, in the UK in 2028 where Detective Shade (Deni Francis) investigates the murder of Aileen Burnett (Lottie Bell) – a white woman who married a black man and went on to having four children. Convicted as a 'race-traitor', she served time for 'miscegenation'. Shade travels the multi-resistance underground network to the Northern Free Zone to solve the crime, where delving in to her past, everything she thought she knew about herself is challenged.
The set was simple but effective and provided a perfect back drop for the subtitles and signing that was used throughout. The subtitles did however highlight errors and missed dialogue during quite a lot of the performance, this did tend to draw your attention away from the main event.
Fiona Whitelaw shone in her roles of Mary Khan/Tracey/Betty Grogan, with a real ability to adapt to each character with fluidity.
Thought provoking theatre that touching on an important part of history that shouldn't be forgotten.