Crucible Theatre, Sheffield – until 1st April 2023 (Transferring to Lyric Hammersmith 15th April – 13th May)
Reviewed by Carol Crann
4****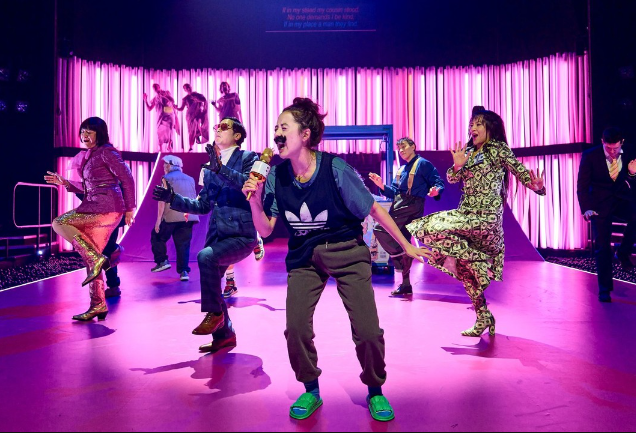 Originally written in 1941 by Bertolt Brecht, The Good Person of Szechwan was first performed in 1943 – and this year celebrates its 80th birthday with an update by Nina Segal.
It tells the story of three gods (Callum Coates, Nick Blakeley and Tim Samuels) who come to earth in disguise in order to find a good person in an impoverished village, and thereby save the earth from the apocalypse.
Along the way they met a poor water seller Wang (Leo Wan) who immediately recognises them for what they are… He tries to help them find accommodation with his friend Shen Te, played by Ami Tredmea, a young prostitute trying to lead a good life, but who is constantly having barriers put in her way by those around her. Particularly when a gift from the gods raises her status, albeit temporarily.
In desperation she resorts to portraying an alter ego – pretending to be her cousin. In that guise she has a different set of morals, which leads her down a completely different path as the demands of the reprobates who surround her increase even further.
We were greeted by a very unusual set which promised a unique approach to the play – and really didn't disappoint. A fuchsia ramp either side of the stage provides some extremely entertaining entrances from the cast, and curtains made of long cylindrical tubes made up the backdrop and also added to the atmosphere by clever use of lighting. Three sides of the stage were ball pools filled with either black or white balls, and provided their own elements of surprise throughout the show.
The Good Person of Szechwan is full of humour, some of which is quite ribald, but was clearly appreciated by the audience. It was also peppered with the occasional musical number performed with great enthusiasm. This thought provoking and updated version of an old play was well received by the audience, who made sure to show their appreciation for an entertaining performance.