Forum Theatre, Malvern – 18th November 2023
Reviewed by Courie Amado Juneau
4.5*****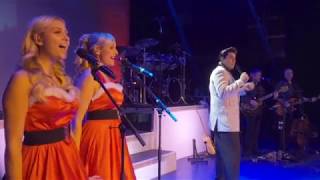 The Elvis Years returns to Malvern with its annual Christmas show – and what a show it is.
I was impressed in the foyer when Debbie (on the impressively stocked Merch stand) was extremely helpful. If even the Merch stand people are this lovely, the show promised to be a superb one.
The lights dimmed, the anticipation mounted and the band struck up a rousing rendition of "White Christmas" with some pleasing lyric changes to mention "Elvis rocking". And right on queue, here's the man himself – well, not quite but so very nearly, in the person of Mario Kombou. Making his way through the crowd dispensing handshakes and kisses as he goes; this is genuine Elvis.
After another Christmas favourite "Here Comes Santa Claus" to get us thoroughly in the spirit, we are launched into Elvis's early years with a selection of Sun Records and early RCA cuts ("Heartbreak Hotel" etc.).
The big screen at the back set the mood for the the TV years – with hits from this era including "Don't Be Cruel". The backing group (in the guise of The Jordinaires) gave a comical version of "Winter Wonderland" with handbells – a crowd favourite judging by the cheers.
A feature of this show is the superb backing vocalists who also take solo spots (and duet). Jenny took centre stage first for "Rocking Around The Christmas Tree". She also dueted with Elvis on "Santa Bring My Baby Back To Me" and with Hayley on a disco version of "Fever". Hayley took the lead on a gently flirty (it is a family show) version of "Santa Baby" – and it was obvious that she made the night of at least a couple of gentlemen sat in the front row.
The Hollywood era was thoroughly covered with all the big hits present, giving the band a chance to crack out their Hawaiian shirts and grassy skirts. "Return To Sender" segued into "Viva Las Vegas" propelling us to a breathless first half finale.
After the break the 68 Comeback Special (leather jumpsuit) intimate set was lovingly recreated – including (for me) Elvis's most emotional song "If I Can Dream". Spot on singing from Mario, which took the roof off.
The band was introduced: Simon on Bass, Stephen on guitar, Neil on drums, John on keyboards and rhythm guitar, giving the audience a chance to show their appreciation for this crack musical unit! Then onto the finale with the Vegas and Touring years covered including all the hits you could wish for plus some rather natty white jumpsuits.
Everything you would expect, faithfully recreated with care and attention to detail. The show is obviously a labour of love and is a pure joy to watch. Although a music concert, Mario is a very likeable frontman in his own right and his depiction of Elvis – the King's humour and mannerisms etc are absolutely bang on. Close your eyes and you will believe Elvis is in the room. Open them and you're only slightly aware it's not him after all!
A real feel good show which is perfect for the festive season. I can't wait to see next year's return engagement and also to catch them all when they return for their non-Christmas set. Good Rockin' Tonight – indeed!