The Playground Theatre – Sunday 19th November 2023
Reviewed by Fiona Leyman
The Mitfords
2**
The Playground Theatre is hosting its Pick of Fringe season, showcasing some of 2023 Edinburgh Fringe Festivals best productions. A small intimate theatre that allows the audience to be up close to the production.
Celebrated South African Playwright Gail Louw has a double bill showing of two of her most popular one-woman plays. These are The Mitfords and the recently published, The Good Dad.
First up with The Mitfords featuring talented actress, Emma Wilkinson Wright (The Changeling, Southwark Playhouse). This short 50-minute play revolves around the lives of The Mitford Sisters who were well known socialites during WW2. These 6 sisters, Jessica, Nancy, Unity, Diana, Pamela & Deborah gained widespread attention for their political views between fascism and communism. Each of these sisters had a story, and this play was to highlight each of their tales. Unity and Pamela, for their love of Hitler, and how Unity did everything in her power to be inducted into his inner circle of trust. Jessica, who ran away to fight for the Republicans in the Spanish Civil War and Nancy, who became a celebrated author as did Deborah. Diana married the leader of the British Union of Fascists, Oswald Mosley in 1936 in Nazi Germany.
Emma controlled the stage which was full of World-War era props. Changing her voice slightly to signify which sister was telling their story. The most notable sisters portrayed were Unity and her quest to seek out the attention of Adolf Hitler and how their lives became a love story. Using the pearl handled gun Hitler gave her, she tried to take her own life when Britain declared war on Germany. Much loved favourite of Unity, Jessica, made it feel she was directing her monologues direct to the audience. Jessica's life changed when she turned her back on a comfortable privileged lifestyle to run away with her cousin Esmond Romily to fight the Civil War going on in Spain. Nancy was portrayed as a low-voiced comedic personality who often refers to Unity's size and looks. Everything she experienced is described as being "A Hoot!". Finally, we have Diana, she was torn away from her children and thrown in prison along with her husband for the majority of WW2 for being a Nazi sympathiser.
Despite Emma's extraordinary talent as an actress, this play fell flat. Apart from Nancy and Unity, it was difficult to determine which sister she was playing. This became more evident when I looked back at my notes and compared them to the research I had done. I realised that Emma was not portraying the sister I had believed her to be. I became unsure about whose story was who's after a while, as some of the voices merged into one. The audience's confusion might have been reduced by using a simple prop that identified each sister. The story of the Mitford Sisters is interesting and how this family was 'Bound by Love, Divided by Hatred', but I felt this play was rushed and the switching between voices too quick. It was confused and failed to connect with the audience, sadly earning it only 2 Stars.
Gail Louw's Double Bill – The Mitfords & The Good Dad
The Playground Theatre- Sunday 19th November 2023
Reviewed by Fiona Leyman
The Good Dad
5*****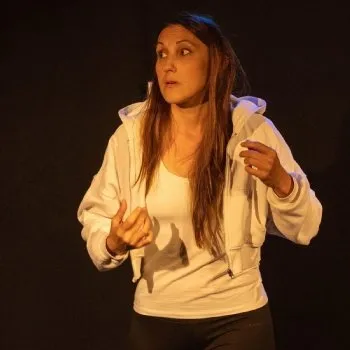 Seconded up in this Gail Louw double bill was the ironically named play, The Good Dad. This play was on a different scale to the one I had just previously watched. Sarah Lawrie (Forbidden Love) commanded the stage and the audience's attention whilst she seamlessly switched between the three characters she was portraying.
The Good Dad is based on a horrific true story from the 1980s. A story of a family broken apart by David, the "Good Dad" and his sordid affair and sexual abuse of his daughter, Donna. The play opens with Donna in prison, why, we don't know yet, but she is telling her tale on how she become to be in this place. Recounting her early life as a child with her identical twin Carol who everyone but their father could tell them apart. Donna was her father's 'favourite'.
This is a story of severe sexual abuse of a young innocent child who loves her father dearly, and not understanding that this sort of behaviour is not normal. Always wanting to please her father, she embarked on a true love affair and fathering four children with him.
A clear switch of a cardigan showed the audience the change in the character. Mother now controlled the stage at the funeral of her ex-husband. The disgust and hatred were clear in her voice, and she described her life with this awful man. No longer referring to her daughter as Donna, but as 'The Other Woman' she recants her tale on how her husband leaves the family home to move in with his new family. Living a lie to not bring suspicion on their family, David portrayed he still lives with his wife, when in fact he was living with his daughter and their new family.
Another quick change to a white hooded jacket, the character of twin sister Carol became evident. Bitter, nasty and bewildered why all these people were crying at her dead father's funeral. She could see him for the man he really was. The family knew what was going on behind closed doors, but because of his bad heart, chose not to do anything, portraying themselves as the perfect family. This all changed when Donna's own daughter becomes of age, resulting in her being in prison. The story switched back and forth between these three characters throughout the whole hour-long show, and each audience member was engrossed in what each character had to say.
Sarah was incredible on stage, her presence and ability to switch between each character was clear, and easy to follow. Being on stage alone, portraying three different characters is no easy feat, especially with such a hard-hitting subject matter, but Sarah did this effortlessly and had the audience believing every word she spoke. Of course, we believed her, because sadly this is based on a true story. Sarah was the true "tour de force" of Gail Louw's Pick of Fringe double bill and thoroughly deserves these 5 Stars.