Grand Opera House York – Friday 7th October 2022
Reviewed by Michelle Richardson
4 ½ ****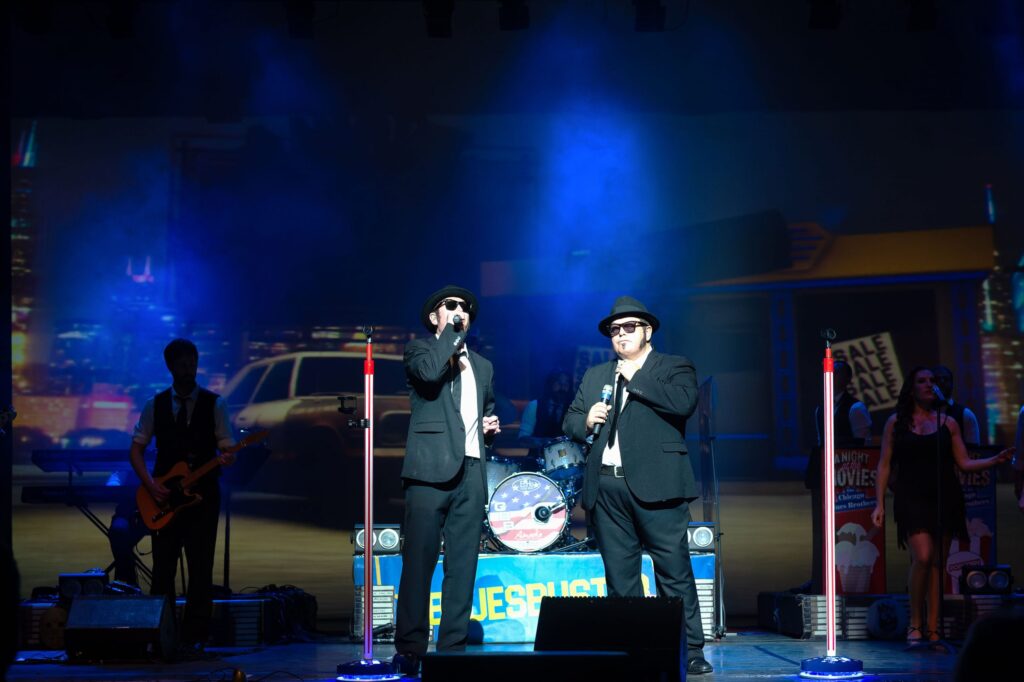 The iconic 1980 Blues Brothers film is such a cult classic that The Chicago Blues Brothers have been touring the globe for over 30 years. Each tour is themed, this one being A Night At The Movies, bringing to the stage a wide range of songs from a variety of films. Accompanied by a seven-piece live band, director and producer Chris "Jake" Hindle and Gareth "Elwood" Davey, take to the stage with Sweet Soul Sisters Stacey and Megan, for what promises to be an all singing, all dancing, all action mash up of a show, celebrating the music of the movies.
With the help of a screen projection behind, the set is based on the old Blockbuster stores, renamed Bluesbuster for their purposes. We were treated to classics from Dirty Dancing, Footloose, The Greatest Showman and many, many more. I must admit my personal favourite, but only because it is one of my all-time favourite songs, after listening to my mum's LP's when I was younger, was Green Onions. If you've never heard of it, it's an instrumental, and boy the band sure did it justice, made my night.
Hindle and Davey are great as Jake and Elwood, encapsulating their characters so well. At times though the attempts at American accents were a bit dodgy, that was of on consequence as we were all having such fun. They were both slick in their singing and dance moves, Davey especially with his floor skills. They were well supported by the Sweet Soul Sisters, who both had their opportunity to strut their stuff, and to shine with solo numbers. The band were all talented musicians, playing live music with such passion. A shout out to Danny, the trumpet player, with all his eagerness in wanting to perform La Bamba, such a funny character. There is so much interaction and banter within the cast and the audience, they really do look like they are having a blast.
I must admit that I wasn't familiar with some of the numbers, but the show was that infectious that it had me up on my feet dancing along. For virtually the whole of the second half the majority of the audience were up on their feet dancing and singing along, "Shaking our Tailfeathers". What more could you want from a night at the theatre?
Straight from walking into the theatre we just knew we were going to be in for a great night, it had been invaded by tons of Jakes and Elwoods. They were everywhere, splendid in their black suits and skinny ties, fedoras and shades, a terrific sight to see. A bonus for us was the two men in one of the boxes, dressed up, who had all the moves to all the numbers. We had a blast copying them in our seats. I managed to speak to them afterwards, they're from Newcastle and this was about their 15th visit to this show, with more planned, true dedication.
This is a smashing show not to be missed, full of fun and energy.