Waterloo East Theatre – until 30 October 2022
Reviewed by Claire Roderick
3***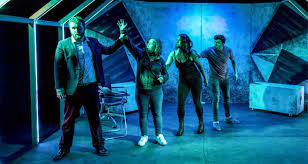 Skitzoid Productions new musical is a heartfelt but muddled queer romp towards the apocalypse. Sam (Jonny Brace), CEO of supportme – an IT company that prepares business for the apocalypse – is awaiting news of a contract renewal in an underground bunker in Southwark. Flirting with the DPD delivery guy (Daniel Nyari), Sam accidentally starts the countdown to a missile launch, and he can't remember his newly changed password to stop nuclear Armageddon.
As Sam and his team try to escape the bunker, a series of calamities render them unconscious, and the show enters Sam's mind. To cope with impending doom and his ongoing mental health issues, his subconscious turns everything into a musical number. To find a solution, Sam's mind delves into each character's issues while shoehorning them into his TV writing project Regency Abbey. When the characters start to rebel after a few lacklustre seasons, Sam's favourite character Rev. Cassock gets a modern-day detective series called Cassock's Clutch. Aesha (Zara Evans) seems superficial and obsessed with social media but is still in the denial stage of grief. Stats (Katie Penfold) needs structure because of her abusive childhood, T-Base (Nyari) acts out his religious father's prejudices and Sam's avoidance of conflict stems from the violent abuser in his family. To touch on all these themes in a musical is ambitious and there are some lovely moments, but the segues into song are unsuccessful at times. As his characters stop co-operating, Sam's frustrated cry of "I need to find a dramaturg" seems sound advice for Bain. A slicker, more streamlined approach would allow the story to flow and make some scenes feel less clunky and easier to relate to – supportme's motto is, after all, Connect to Survive.
On a positive note, the performances are all strong and vocals impress. Penfold's facial reactions as she loses control; of her body in early choreography are wonderful. I thought it was hilarious that Marcus Bentley from Big Brother was the Voice of God, counting down the minutes to the apocalypse, and didn't realise that he had not recorded his part but was speaking live from the back of the theatre until he strode onto the stage for a small but pivotal role. There is a decent range of musical styles in the score, but the overuse of electronic instruments in all songs does begin to resemble shopping mall muzak. This is a shame as some of the songs have exciting potential and varied arrangements would help differentiate them. Valentina Turtur's set design works well as the bunker and Sam's subconscious, with Oliver Hynds' lighting adding an intimidating and claustrophobic atmosphere. Benjamin Harvey's animation is a fantastic touch as Stats works out her self esteem issues playing a video game Space Evaders.
With moments of charming introspection, absurd humour, and full of energy, Last Sales Conference of the Apocalypse highlights important mental health issues. This is a show with lots of potential but needs a lot more work before it is the finished article.