Theatre Royal Brighton – until 12 November 2022
Reviewed by Sue Bradley
4****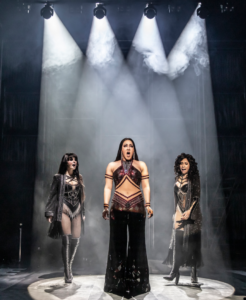 To be honest, I didn't know what to expect from this show. Anyone who's had any exposure to pop culture over the past 60 years cannot help but at least know of the existence of the phenomenon known to the world as Cher. So, would it be an autobiography? Would it be a concert performance of the hits?
Well, in the end, it was something of both. We were promised 35 songs and The Cher Show certainly delivered. This means that, in what amounts to a two hour show, there is not a great deal of time to explore the more intimate details of the superstar's life. Instead, we are treated to a series of vignettes, illustrated by the songs.
Cher's story has the background of the far-too-familiar tale of male exploitation and manipulation, but her immense drive for success and magnificent ability to re-invent herself when success has faded has resulted in an artist of almost mythic proportions. She is a singer, a successful Broadway actor, an Oscar-winning film-actor and an ever-changing fashion icon. And she isn't finished yet.
That success has, inevitably, not been without its costs and her private life appears to be one of heartbreak, disappointment and frustration.
Her story is told through an unusual theatrical device of an almost constant presence of three versions of the Cher persona, talking to and advising each other throughout; Millie O'Connell as the awkward and shy teenager, Danielle Steers as the sassy wise-cracking half of the song and comedy duo with husband Sonny, and Debbie Kurup as the full-on Superstar Diva. All three women manage believable incarnations of the star, and all three capture much of the essence of the voice, with Steers, perhaps, having the closest interpretation.
Written by Rick Elice (Jersey Boys, Peter and the Starcatcher) , directed by Arlene Phillips, (perhaps now best known to us as one of the judges on Strictly Come Dancing, but with many decades of experience as a dancer and choreographer) and choreographed by Oti Mabuse,another famous Strictly alumni; the show is a true song and dance spectacular. The choreography feels heavily influenced by the styles of 60's TV dance-troupes and, whilst perhaps oddly old-fashioned, the dancers give it their all. And the clever costumes, designed by Gabriella Slade, although not being as risqué as Cher's own choices, give impressions of semi nudity without ever really revealing anything.
We saw the show on a packed opening night and the audience was ready to 'Believe' right from the off – and don't worry – you'll get a chance to sing along at the end. Cher is an entertainment industry phenomenon and this show allows you to feel something of the pleasure and pain that she has experienced on a journey that is still far from over.