New Victoria Theatre Woking – until 10th September 2022
Reviewed by Carly Burlinge  
5*****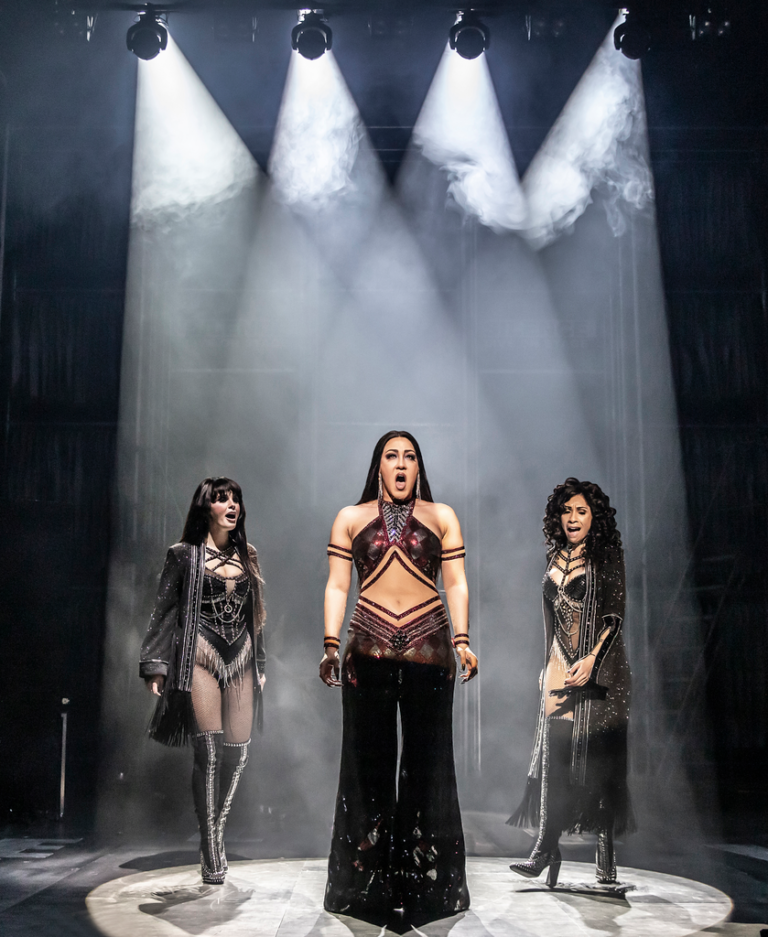 This amazing production brings you the story of Cher with three sublime actresses playing the one role!
The three phases of her life start with the younger Cher – Babe (Millie O'Connell) who kicks the show off as a small child Born in 1946 to an Armenian Father and a mother of Cherokee Ancestry. Babe starts the show off as a young girl dreaming of the big time whilst struggling with the world around her! With so much trust and innocence in her eyes, she embarks on her journey only playing her fate into the hands of people that will later go on to upset and betray her! Her career begins when she meets Sonny (Lucas Rush) as they go on to have a happy at first but later challenging relationship. Although with much happiness comes much sadness and unless in the spotlight you see the story of their relationship begin to fall. Some dominant scenes and emotions along with her experiences are released through her songs and we get a great many examples of this from Babe as she rocks out some amazing music that we all know and love. Her talent is extraordinary and has the whole audience focused throughout her performance.
Cher's second phase is mastered by Lady (Danielle Steers) Once again there is nothing that disappoints. She plays a fierce Cher who begins to take control of her life and becomes stronger. What a star! Along with some awesome moves and vocals that have so much power and sharpness that it just blows you away! Truly tremendous. 
Cher's Third phase is conquered by Star (Debbie Kurup) playing the eldest version of Cher who appears wiser and more acknowledgeable who is courageous and strong.
She definitely stamps her mark on the show with vocals that are so immensely fabulous and outstanding alongside her dance performances.  
The talent between the three Cher's is just phenomenal and they each hold a major part in the show. They all seem to have an exquisite combination of pure talent that has the whole audience captivated from start to finish. They have a great connection on stage and I love where they discuss moments of their lives throughout the show helping each other with concern and seriousness of their 3 stages of their lives.
Their voices when joined together produce something so special its flawless.
The choreography was fabulously done to a high standard was incredible to watch and was so sharp and on point it couldn't have been done any better!
As for the costumes what more could you ask for wigs, sparkles, tassels, thigh boots to die for and so much glitz and glamour offering unique costumes that just shimmered through the great lighting whilst on stage. To be honest everything just blew me away totally eye-catching and electrifying!
What an incredible production that was captivating from start to finish filled with the most remarkable songs that had the audience all singing to the very end. With a standing ovation so much cheering dancing and participation. This is by all means one show that should not be missed!!
If you fancy a spectacular evening out, then get yourself to 'The Cher Show' if I could have given it more stars I certainly would have!!!!