New Wimbledon Theatre – until Saturday 4 February 2023
Reviewed by Charlotte Baker
4****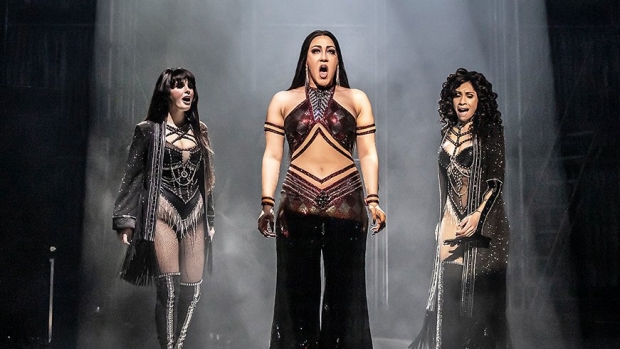 If there was ever a cure for the January blues The Cher Show would be it! I left feeling on cloud 9 after an evening spent watching this sequined spectacular which tells the story of how shy girl Cherilyn Sarkisian becomes the ultimate diva and a true female icon.
My usual theatre buddy couldn't come with me as she was ill, so I bought along my 14 year old daughter. I was slightly apprehensive that she would find it dull as the only Cher she had heard of was the one from teenage cult classic Clueless! But there was no need to worry as I looked across at her beaming face lit up by the disco ball that Wimbledom theatre had become.
The show is a chronicle of Chers career. There are three Chers, Debbie Kurup who plays "Star" Danielle Steers "Lady" and Millie O'Connor who is "Babe. Each actor represents Cher at different points of her life, and what I really liked was how the three would talk and interact with each other, offering advise to her younger self or being self critical. In some ways it made you think about how your opinions and priorities change over the years and gave depth to what could have been just a lighthearted show about fabulous costumes and catchy tunes.
Speaking of costumes … wow! The costume designer Gabriella Slade must of had so much fun with these creations. They were breath taking and would almost steal the show if it wasn't for the incredible lead actors. Our 3 Chers really did blow everyone away with there incredible performances, it's hard to pick a favourite as they all brought a different element to the show.
The production was very slick, however there was a technical issue at the end of act 1 which meant the final scene of act 1 had to start again and there was a longer interval. This was handle really well by the production team amd cast and the audience all helped cheering along as the divas took to the stage..
The second act did have a bit of a dip half way through and fell abit flat, but in a way that kind of went with the story of Chers life. This was then followed by what was a truly incredible fabulous finale which had us all up in a seats dancing and singing along. This was Chers come back! 
This show is truly a must see and will unleash your inner Diva. In fact if I could turn back time … I could see it again and again.