Blue Elephant Theatre – until 25 June 2022
4****
Reviewed by Claire Roderick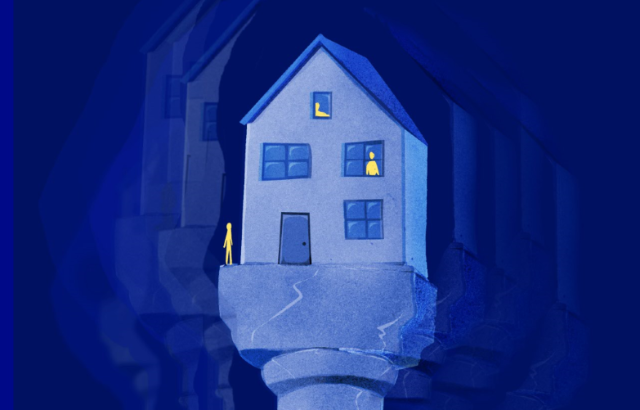 The trio of characters in Gaia Fay Lambert's beautiful debut play live in the same house but are all crippled by loneliness and grief. Lambert's words are evocative and reflective, weaving each character's story of loss together expertly as they try to voice their feelings. The cast, Gbenga Jempeji, Meg Lewis and Séamus Newham are breathtaking, each capturing their characters despair effortlessly and sucking the audience into the void with them. Lambert's language is full of repeated phrases with different meanings for each character; with frequent references to Greek myths illustrating humanity's eternal longing for love and happiness and paralleling the narratives of the characters.
Director Myles O'Gorman's perceptive direction and the incredible design by Hazel Low has the characters seemingly trapped inside an almost bare stage surrounded on three sides by large windows with blinds firmly down. The characters inhabit this space huddled shoulder to shoulder, swaying and twitching together in their shared but solitary states. The early part of the play is almost hypnotic as the monologues drift in and out, with shared gasps for air separating segments. The magnificent sound and lighting design by Jamie Lu and Kevin Murphy enhance the bleakness, gradually building to an uncomfortable crescendo as the trio force themselves apart.
The rhythm of the play breaks up at this point, with each character's story examined in more depth through monologue and a sweet but heartbreaking wordless performance from Meg Lewis. As the characters work through their torments and begin to reach for the light, the blinds are opened and glimpses of hope creep in as they reach out for each other. The cycle of recovery from such despondency is portrayed thoughtfully and realistically, ending with a cathartic hopefulness and togetherness after the onslaught of emotions the play evokes.
A poetic and emotional play of haunting beauty, The Blue House is an extraordinary debut.