Barons Court Theatre – until 25 June 2022
3***
Reviewed by Claire Roderick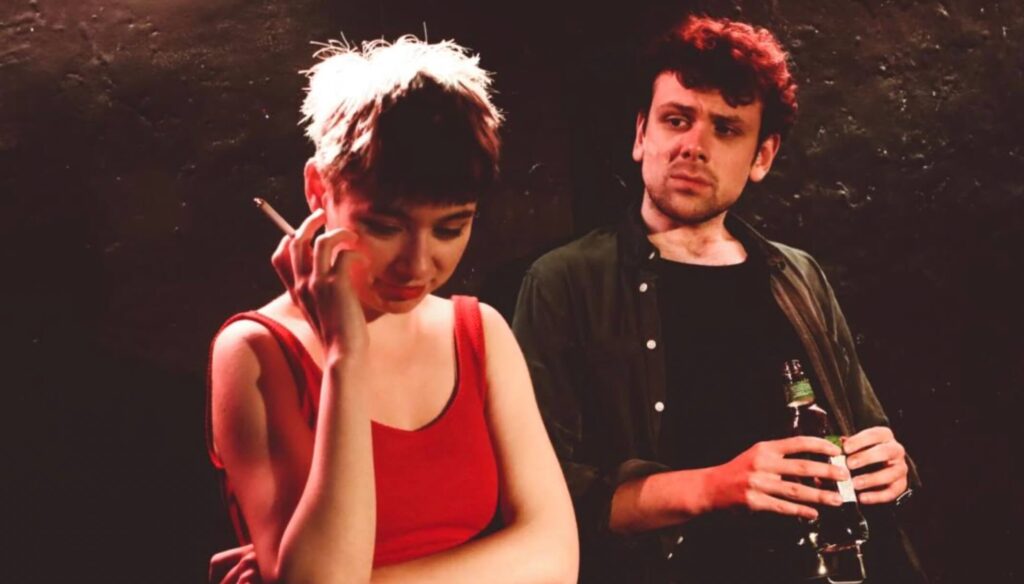 Eye Opening Productions' Love (to) Bits is a heartfelt and funny exploration of love. Writer Ioana Goga weaves the personal triumphs and tragedies of Cynthia's quest for love between verbatim responses to the question "What is love?" and, under Goga and Jez Davess-Humphrey's co-direction, the result is a punchy and fast-moving show.
Goga's fantastic stage presence draws the audience in straight away as Cynthia, and the descriptions of her first loves, starting at age 4, are honest but gently mocking seen through the prism of hindsight. Cynthia has a type, and they have led to disappointment and heartbreak. Aged 18, she meets Van (Tómas Howser) at a nightclub. He is the complete opposite of her type, but she is smitten. The funny awkwardness as they get to know each other is played beautifully, making the disappointment when one of them is not as committed to the relationship as the other more real, even though it is pretty obvious what is going to happen when Van doesn't want to label their relationship.
All of Cynthia's experiences of love in her life – unrequited, childish, downright stalkery, obsessive, comfortable, blissful, and all the pain and misery when love breaks down – are relatable and recognisable. The inclusion of the answers to "What is love?" between scenes highlights this, as each person (all wonderfully performed by Beatrix Bowden) struggles to express the concept. There are funny answers alongside truly moving replies from the older generation who have lost loved ones.
Goga's final monologue exploring Cynthia's realisation that loving herself is vital to her happiness is an empowering affirmation that hits exactly the right tone, accepting that selflove is as messy as loving others and ending the show on a high. With a fresh and funny approach to deep feelings, Love (to) Bits is well worth a look.