The Grand Theatre and Opera House, Leeds – until 5th November 2022
Reviewed by Katie Brewerton
5*****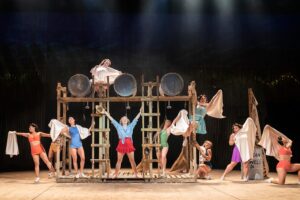 South Pacific is back on tour! The classic Rogers and Hammerstein Musical is presented by Chichester Festival and is one not to be missed. First performed on Broadway in 1949 South Pacific stands the test of time. 
A classic love story based on an island in the South Pacific during world war two, South Pacific tells the story of Nellie Forbush (Gina Beck), a nurse in the navy who meets Emile de Becque (Julian Ovenden) an older French plantation owner and they soon fall in love, but Emile has secrets and is running from his past. Will Nellie be able to overlook this and her own prejudice upon learning of Emile's mixed-race children so they can live happily ever after? 
Meanwhile we are introduced to the marines on the island, who are soon joined by newly stationed Lieutenant Cable (Rob Houchen). Lieutenant Cable has arrived on a mission to recruit Emile and use his knowledge of other Pacific Islands to spy on Japanese planes and aid the US forces in turning the tide of the war in their favour.
One of the marines, Luther Billis (Douggie McMeekin) is determined to use Cable's officer status to hire a boat to travel to Bali Ha'i an island full of local culture, tribal rituals, dancing and women. The only problem, they are forbidden from going there. After being convinced to travel to Bali Ha'i Lieutenant Cable meets Liat (Sera Maehara), a young Tonkinese girl who he falls in love with, however he struggles to come to terms with consequences he may face should he marry someone of another race.
South Pacific is a simply wonderful production full of fantastic music and lyrics, featuring some of Roger and Hammerstein's most well-known songs including 'I'm Gonna Wash That Man Right Outa My Hair', 'Some Enchanted Evening' and 'Bali Ha'i'.  With phenomenal talent from the main cast especially Ovenden who's solos were spectacular. The staging is marvellous, with effortless scene changes throughout and brilliant costumes, particularly during the Thanksgiving Show. 
With love and heartbreak, a whole array of magnificent music and a fantastically talented ensemble cast this really is a must-see production of a classic musical.