The Mix, Theatr Clwyd, Yr Wyddgrug – Wednesday 8th and Thursday 9th March 2023
Reviewed by Julie Noller
5*****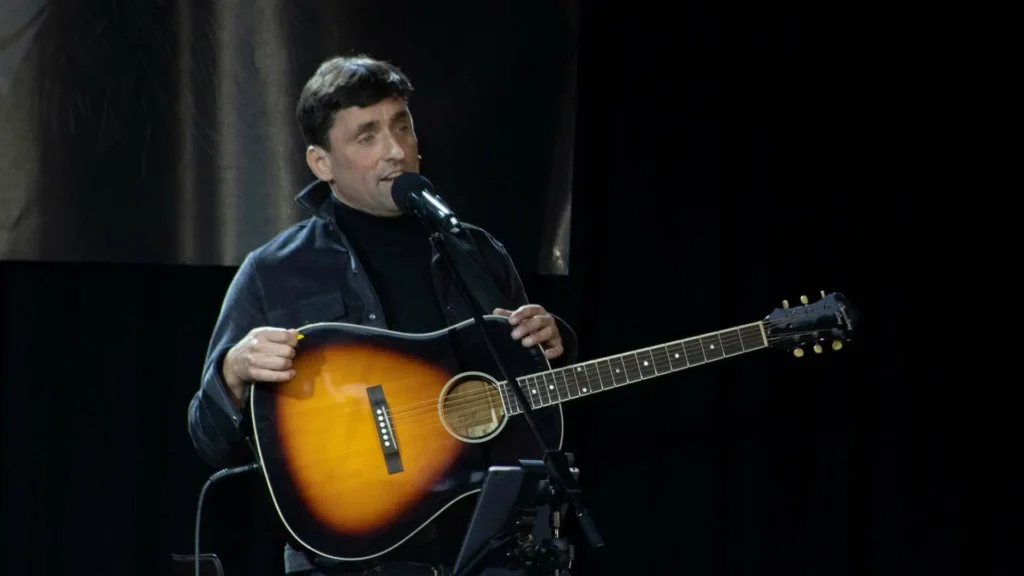 Something About George is the latest touring show from producers Bill Ems, Jon Fellowes and Gary Edwards Jones collectively called Something About Productions a name that hopefully promises more offerings in the future.
On a snowy night in North Wales we gathered in Theatr Clwyds The Mix which to those who don't know is a sort of outdoor yet indoor smaller dome shaped theatre. Usually it has a smaller audience giving the feeling of being closer to the stage setting and more in touch with the action.
I'm too young to remember most of George Harrisons life and career; to many he was simply the quiet Beatle, the baby of the group and dare I say the forgotten one. Something About George helped to readdress those issues and I came away more knowledgeable about a man who was not only incredibly talented but obviously a human being far ahead of his time.
How did the setting work? It felt like an intimate gig or even a live lounge environment, don't expect conventional theatre acting but do expect humour, tales, joy, facts and plenty of musical entertainment. Daniel Taylor is just himself taking to the stage with his massive pearly smile and skinny jeans, he is not there to impersonate George Harrison but to share his passion for singing and help us on our journey into an understanding of the quiet one.
It's not a one man show he is joined by fellow musicians Max O'Hara, Callum MacMillan, Tom Kinton and Joe Smithson. Daniel himself plays guitar throughout whilst singing those songs many of us love, some when I read the list I wasn't sure I knew but nothing was stopping me and most inside the packed Mix head bobbing, foot tapping, hands twitching and clapping. I loved everything about this show from the music delivered with passion, head bobbing guitarists (mop top much a kin with The Beatles early days), watching the fast paced keyboard changes, the rifts, the gentle taps and booms of uptempo numbers; the stories and facts that I listened to bringing a deeper understanding of a man who struggled privately but ultimately absolutely stuck to his beliefs and fraught with passion yet still at times wasn't afraid to jump head first without thinking, for he was passionate about his friendships)
Watching the people around me in deep enjoyment and lastly being able to if I wished just close my eyes and become lost in the music. Of course if you didn't wish to close your eyes you could watch lots of moving and still footage along with abstract images shown above the performers I may not have said I liked the polished unfinished feeling it has that brings you closer to the stage and being part of a life that I knew nothing about.
Once heading home we were determined to spend time rewatching footage of George to compare the show and Daniels dancing moves but more importantly to listen to many classics that today go unlistened to by those far too young to have heard stories of the swinging 60's but are far more loved.
George Harrison may have been the quiet one but he was no less talented as the other members of the fab four. It was lovely to be able to see Daniel on our way outside being congratulated by all with a huge beaming smile on his face, he deserved all the well done's and I had to say Thank You for giving us such a brilliant night of non stop entertainment.