Theatre Royal Concert Hall Nottingham – until Sunday 8 January 2023
Reviewed by Amarjeet Singh
4****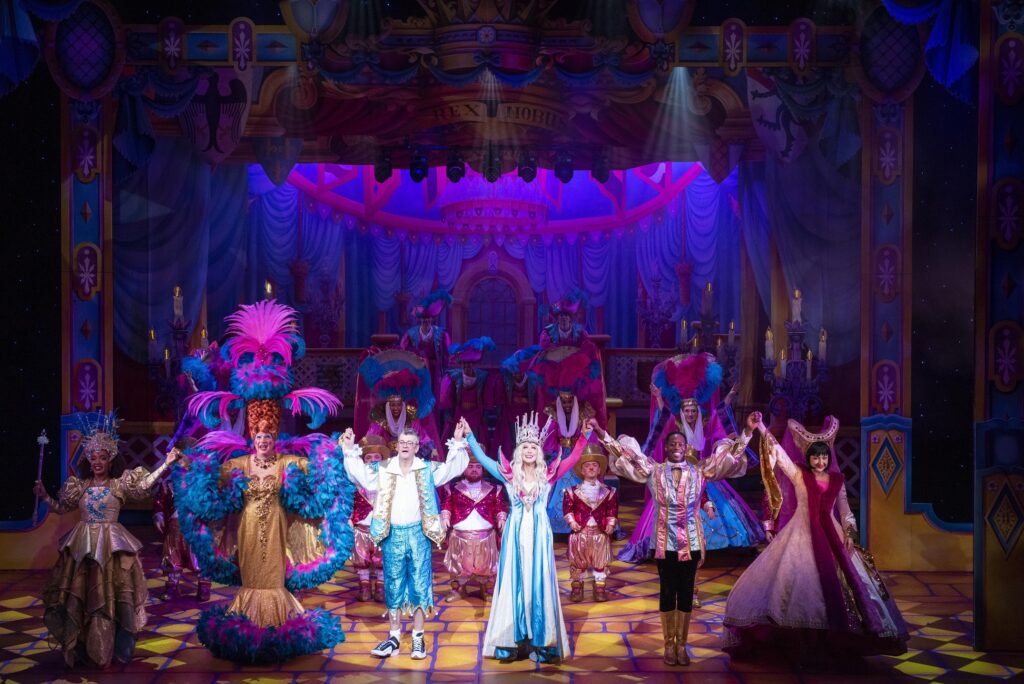 A pantomime is a traditional fairy tale complete with songs, dances, jokes, exaggerated characters and lots of audience participation. This production of Snow White and the Seven Dwarfs delivers spectacularly on all counts. With a stellar cast bringing the Brothers Grimm story to life, its comedy, costumes and capers were in abundance. With a twist on the traditional tale, you are kept guessing and not allowed to collapse into complacency, only fits of laughter with the never-ending gags.
There was a truly magical mirror, a taxi, a flying car, seven dwarfs, a motorised toilet, a prince, a princess, an evil queen, Muddles and his Dame of a mother, a fair bit of corpsing, and did I mention a lot of laughter? The costumes were stunning, the sets were sublime, and the musical numbers were spectacular. Standouts were a Lizzo remix alongside some of the traditional Disney Snow White songs, and then there was the mother of all endings to any show I have ever been to (calling all Steps fans!)
Joe Pasquale who played Muddles, was absolutely phenomenal. He truly embodied Panto being controlled mayhem. He served the show, but threw the script out of the window at the same time and adlibbed like a pro, sending his co-stars in to fits of laughter which added to the audiences enjoyment.
Steps singer and West End performer Faye Tozer played the wicked Queen Lucretia to perfection. Funny, engaging and at times a little evil, her vocals were on point.
Playing the dame was David Robbins. His portrayal of Mrs Nelly Nightnurse was a delight. He had more costume changes then we have had cabinet shuffles. Elaborate, garish, horrific at times but so, so amazing and they all added to the mirth of the show.
Jamal Kane Crawford who played the Prince, Lucy Ireland who played Snow White, and Natalia Brown who played the Spirit of Pantomime were fantastic and held their own against the 'Stars', and they, alongside the ensemble cast ensured every song and dance performance was executed to perfection.
What kind of a review would this be if I didn't mention the magnificent 7. The dwarves, played by Simeon Dyer, Karen Anderson, Willie Coppen, Blake Lisle, Andrew Martin, Katarzyna Męczyńska and Alireza Sarebani were brilliant. Their singing, dancing and overall performance brought the show to life.
This performance loses a star because there were no warnings about the flashing lights during the performance for those who have photo sensitivity. Also, there was an excessive amount of smoke coming from the stage at some points which caused audience members to cough.
Other than that, this production of Snow White and The Seven Dwarfs is a rip-roaring romp which will have you rolling in the aisles. Could this be the best pantomime you will ever see, other panto's might not agree, but repeat after me 'Oh Yes It Is'!