Lyceum Theatre, Sheffield – 11th November 2022
Reviewed by Sophie Dodworth
4****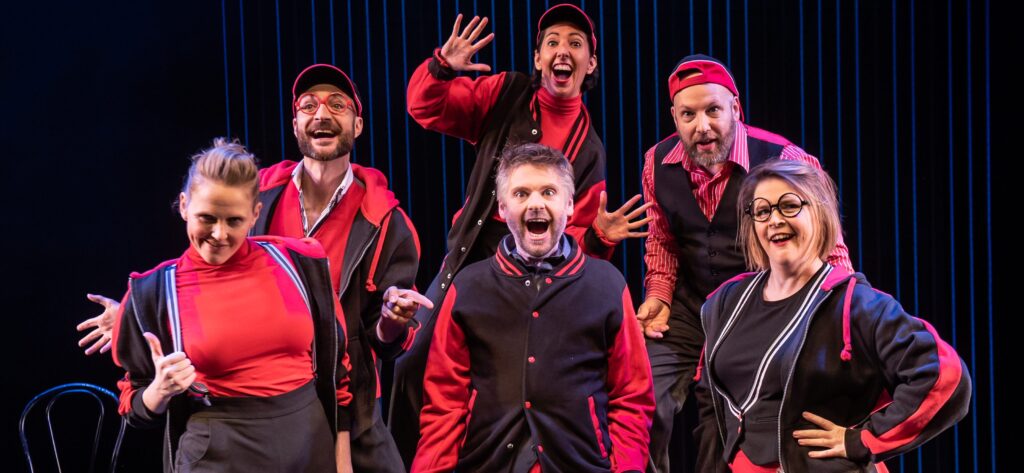 Following twelve years as an Edinburgh Festival favourite musical, Showstopper stops off at the Sheffield Lyceum for one night only. Showstopper has had a critically acclaimed West End run and now can also add an Olivier Award to their name!
The performance is totally improvised and unique, what a different experience for theatre fans this is! It is quite astonishing and you are left wondering how on earth they have managed to do this so seamlessly, have they someone undercover in the audience so they can manipulate it? But this can't be as someone would surely notice, right?
How it works is that the Director, Sean McCann (who acts as a little bit of a narrator also) is in control of directing the audience as his writing group, so approaches the auditorium for ideas. The ideas requested at the beginning are: to name a place the musical can be set, and a musical style (as in, previously seen musicals) Our audience selected Elon Musks office and four musicals that the show would work through. The ideas are all written on a chalk board so you can keep reference, but it is obvious, if you're a theatre buff when they arrive at each one anyway! (the Les Miserables section was most impressive) During the interval you are invited to tweet the company with ideas for the second half, the ones that McCann read out were all used frequently, the favourite seeming to be (and well-deserved favourite at that) that Martha Pothen turns emo – she did this so well, perfectly in fact, you would just have no idea that this wasn't part of the script.
Part of the band is on stage and together with the actors they form an extremely talented crew, ready to adapt to whatever the audience throws at them. The actors seem to be more astonishing as the show goes on, probably because you can't quite believe how quick, sharp and comical they can be, just put on the spot as they are! A few to mention are Matt Cavendish, Adam Meggido and Martha Pothen seemed to really steal the show. Pothen has the most beautiful voice and in a duet towards the end of 'Tattoo On My Heart' she totally shines and it was such a special moment. Lots of smiles on lots of faces after that. Another stage star is the drummer, Craig Apps. Never have I ever not been able to take my eyes off a musician! Totally animated all the way through, clearly enjoying every minute, donning the best smile on the stage.
There is a clear following to this musical, dedicated fans that laughed all the way through and were super quick to give a standing ovation at the end. The show is worthy of this though and deserves every follower. The actors have to work harder than your usual cast with the thinking then performing on the spot. A different, entertaining and unusual piece of theatre – a real phenomenon.