Pleasance Theatre – until 26 November, then on tour around UK until April 2023
Reviewed by Claire Roderick
4****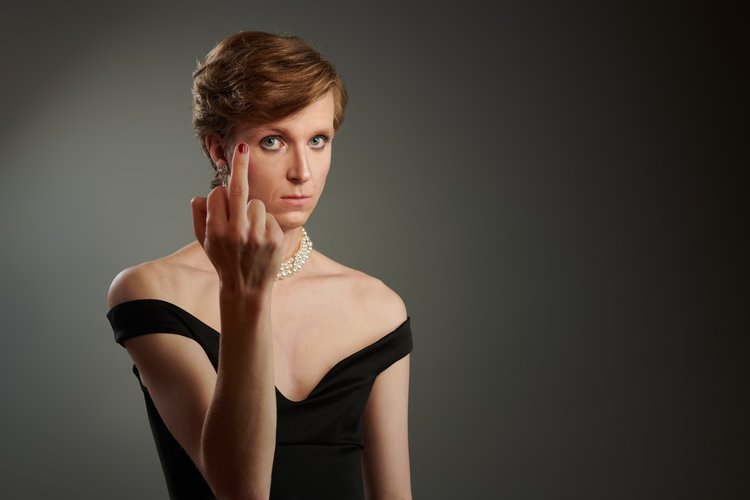 Awkward Productions hit the jackpot again with this hilarious, irreverent but affectionate show that gives Princess Di the chance to tell her own story.
The magnificent Linus Karp's drag version of Diana is coy, self-deprecating and ridiculously funny, forever declaring that there were 3 "of us" in every situation and flinging themselves to the floor whenever she is overcome with emotion. Fresh from hanging out with Captain Sir Tom Moore in heaven, Di comes to the Pleasance to share her life story, beginning at her conception, with her adoring fans. A low-tech video display and a few props are all Karp and Joseph Martin need to suck everyone into this conceit within moments. Audience members are roped in to perform in minor roles, from Di's parents to a landmine and the Queen's corgi, reading their lines on the big screen – and invariably ending with a gushing giggle worthy tribute to Diana's selflessness and humanity.
Geri Allen's wonderfully dotty and vindictive version of QE2 makes Lewis Carroll's Queen of Hearts seem forgiving recorded segments manipulated cleverly for live interactions. Charles is a cardboard cut-out voiced by Joseph Martin – the 2020s version aged down by a very subtle hairpiece! Of course, even as their whirlwind courtship occurs, there are mysterious phone calls from a demonic voice – and when Camilla first appears on stage you think it can't get any sillier, but Joseph Martin whirls and manipulates the giant puppet as if he is auditioning for The Exorcist. While Karp's Di hovers around Charles waiting for a kiss, CamCam launches herself at him like a wolverine on heat – brilliantly daft and cleverly cementing Di's image of herself as a tortured saint amidst the royal horror show.
We see the wedding – Karp's dress will make you howl before he even speaks – the births of the heir and the spare, and Di's decision to leave Charles – complete with the revenge dress. Then Di decides to take a trip to Paris… This being Di's version, we see how she would have continued to be a champion and ally of queer culture in a heart-warming section that brought the biggest cheers of the night from the audience, and God herself (Zina Badran) turns up to fangirl over Diana before Diana retires in triumph to the bar upstairs where you can meet her and buy her merch.
A fantastically funny and near the knuckle show that celebrates the life of a queer icon in the queerest way possible. Grab a ticket for the only royal tour worth seeing.
Tour dates
8 – 19 Nov The Pleasance Theatre, London
23 – 24 Nov Arts at the Old Fire Station, Oxford
1 – 4 Dec Alma Tavern and Theatre, Bristol
3 – 4 Feb Theatre @41, York
10 – 11 Feb Nonsuch Studios, Nottingham
15 – 18 Feb Town & Gown, Cambridge
24 – 25 Feb Old Joint Stock, Birmingham
28 Feb – 1 Mar Old Gym Theatre, Acting Coach Scotland, Glasgow
2 – 4 Mar The Brewers, Manchester
16 Mar The Acorn, Penzance
25 Mar Lighthouse, Poole
31 Mar – 1 Apr Accidental Theatre, Belfast
1 Apr Digital livestream at accidentaltheatre.co.uk/live
6 Apr Two Brewers, London
7 Apr The Maddermarket Theatre, Norwich