Wilton's Music Hall, London E1 – until 25th March 2023
Reviewed by Phil Brown
4.5****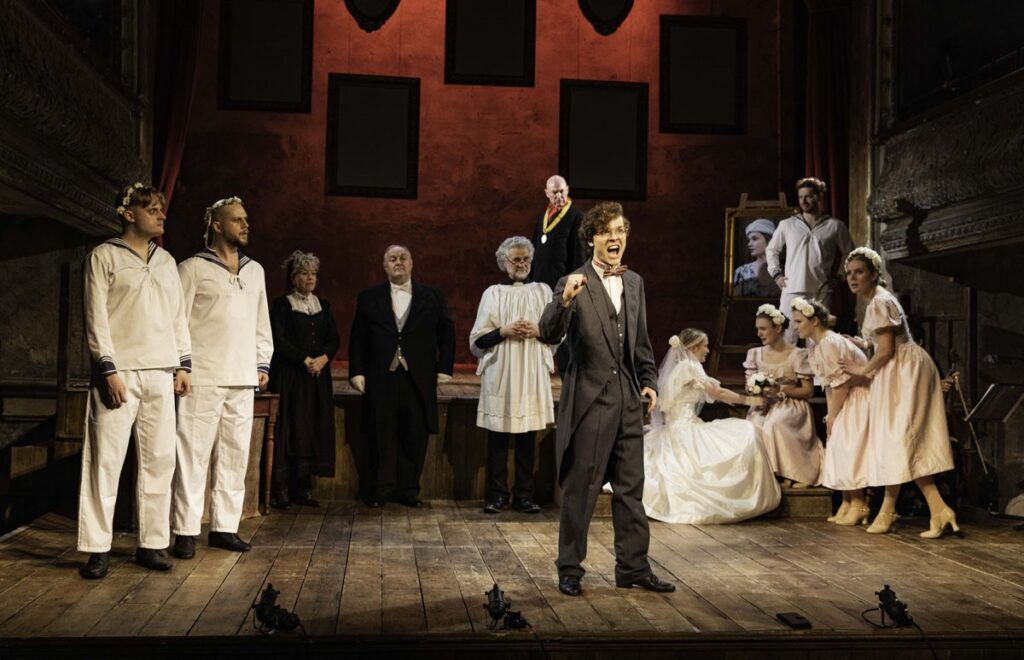 Ruddigore or, The Witch's Curse, is a comic opera in two acts, with music by Arthur Sullivan and a brilliant, witty libretto by WS Gilbert.  Pre-show research hinted it might be a demanding watch.  Its start in life at the Savoy Theatre in January 1887 didn't go particularly well and it seems to be regularly revised.  The story is a mix of the bizarre and the banal, and possibly out-bards even Shakespeare's most extreme inventions. 
So I am particularly pleased to report it was fantastic fun –  a delightful and quite entrancing production.  Perhaps the most succinct way to describe it is a highbrow pantomime for "grown ups", although Director and Producer, Peter Benedict might well disdain such a view.  He must certainly take the credit for creating such an accessible performance.   In his expert hands, the convolutions of plot came across with real comedic clarity, whilst the surreal premise involving bad baronets required to commit a dastardly crime every day, seemed almost reasonable.   There is a wealth of high quality content to absorb in Ruddigore, and a second viewing feels almost obligatory in order to catch any delicious moments missed..
The antique nature of Wilton's and liberal use of the smoke machine makes a perfect setting for Ruddigore which mostly takes place in the brooding hotel, formerly Ruddigore Castle, in the Cornish village of Rederring.  Clever things occur with the portraits of past baronets that cover the walls.
The main characters are the diffident Sir Ruthven Murgatroyd (well acted by Joe Winter) who has assumed the identity of Robin Oakapple, a young farmer, and Rose Maybud (Madeline Robinson), a village maiden who he wants to woo. He has a brother, Sir Despard Murgatroyd (the outstanding Peter Benedict) who has inherited the wicked baronetcy in the apparent absence of Sir Ruthven, and also a foster brother, Richard (call me Dick) Dauntless (Kieran Parrott) who has returned from years at sea on the sloop TomTit, accompanied by two sailor friends, Thomas (Max Panks) and Harry (Edward Watchman).
Particularly prominent are three relentlessly perky professional bridesmaids Zorah (Ellie Styles), Mercy (Eleanor Monaghan, and Ruth (Rosie Weston) whose yearning for a wedding to take place is barely contained.  Their singing and dancing was absolutely joyous and injected charm and energy when it was most needed.  One of the best moments in the show is in Act One when they engage with the three sailors in a wonderfully choreographed hornpipe.
Alongside the main players are Mad Margaret (Charlie Baptie) who ends up marrying Sir Despard. She invents the unlikely trigger word Basingstoke for Sir Despard to control her mad urges. Then there is Rose's Aunt, Dame Hannah (Rosemary Ashe), who was once betrothed to a disguised Sir Roderick Murgatroyd (Steve Watts), the 21st Baronet, before she discovered the subterfuge. Sir Roderick appears as a lively ghost from the past. Last but not least with some understated comic acting is Robin's stoic faithful retainer, Old Adam Goodheart (Graham Stone)
With more acting than is typical in regular opera, Ruddigore calls for uniquely multi-talented performers and the entire cast was more than equal to the task.  The acting was perfectly pitched.  Whilst it was sometimes difficult to catch all of the very fast singing, the often challenging songs were delivered with skill and zest.  And Sullivan's outstanding music, in turns tender, jaunty and stirring, with folk, sea shanty and operatic elements, was consistently well played by a small group of multi-instrumentalists plus on-stage violinist (Luca Kocsmárszky) under the direction of Tom Noyes.  Overall, it was a truly impressive ensemble performance.
Most of the musical passages were highlights, but there were several outstanding moments.  In particular, the arrival of the cocksure Dick Dauntless in Act One was transformational.  His performance of "I Shipped D'ye See in a Revenue Sloop" was full of boisterous vigour and excitement and shifted the story into top gear. He turned out to be more of a Dick Dastardly, but see the show to find out more.  Director Peter Benedict playing Sir Despard Murgatroyd took the opportunity to make a couple of well received contemporary jokes.  In Act Two, he, Mad Margaret and Sir Ruthven perform a charming "My Eyes are Fully Open" which is followed by a beautiful duet between Hannah and Sir Roderick ("They Grew a Little Flower"). 
This splendid production of Ruddigore belies its troubled beginning.  It's a minor masterpiece and, as a relative newcomer to Gilbert & Sullivan, I am now a fully converted admirer.