Theatr Clwyd, Yr Wruddgrug – until 18th March 2023
Reviewed by Julie Noller
5*****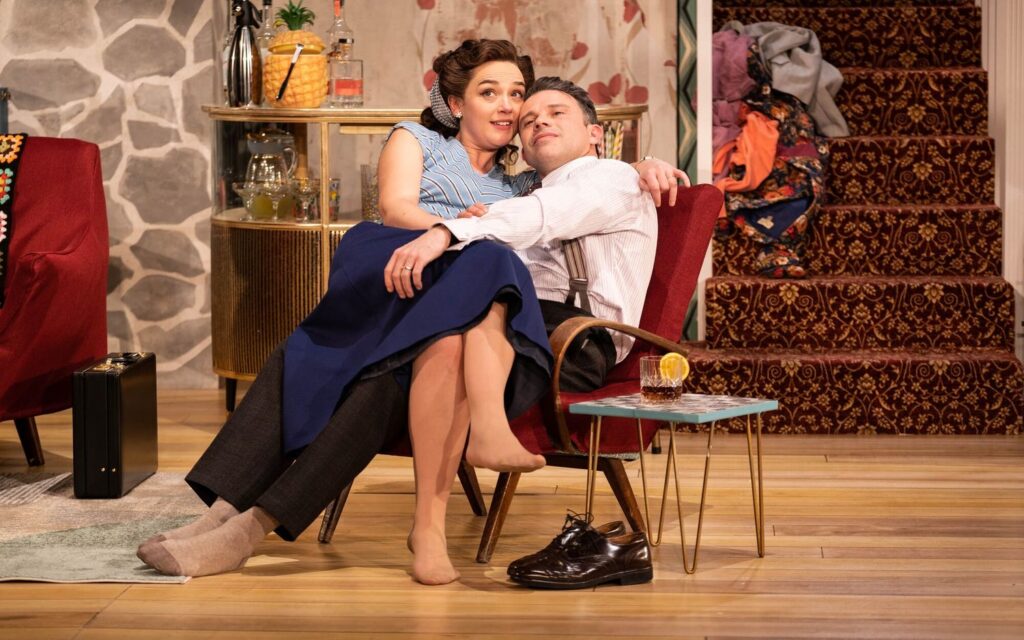 Home, I'm Darling written by Laura Wade and directed by Tamara Harvey has returned to the home of its 2018 world premier supported by the National Theatre.
I attended the matinee which no matter what I am watching always has a different vibe to the evening performance. I enjoy rewatching a performance in a different theatre with a change of cast. As someone who enjoys depth of character and observing interactions, it always fascinates me how subtle differences can alter my perception massively. I am happy to say the set is as impressive as ever looking like a 2 dimension dolls house with small pieces of furniture that indeed wouldn't look out of place in one. Is the set a nod to the fact that what we are seeing is a dream; a fantasy? Something the music as the play begins gives a gentle nudge to… Mr Sandman, cue me humming along and bom, bom,boming to. That 2 dimension vibe almost has you feeling like you're watching an old tv show perhaps Bewitched – perfect housewife, perfect life. When things start to go wrong in your life sometimes it feels like that dream world is the place to be.
Home, I'm Darling is witty, amusing and without doubt an extremely intelligent view of characters who don't understand themselves yet alone others. Well done Laura Wade for making us look at our own lifestyles and ask the questions; who looks after your home? Who does the cooking and cleaning? Even by todays standards can you say you've never apologised if you've forgotten something from the shop? Have you ever put something on the stairs ready to take up? Have you walked past that item? I sniggered, yes I have and yes I've grumbled when others did just that too. I heard so many cliches 'just a housewife' 'what do you do all day?' Housewife – It's not just physically demanding but mentally too. Jessica Ransom is infuriatingly perfect as Judy recently made redundant but obsessed and totally in love with the 1950s post war era. Where film stars ruled the golden screen with ideas of fluffy lifestyles of slippers and cocktails before dinner. Obsession can be a dangerous thing and she became annoyingly obstinate. You wanted to jump on stage and slap her for not listening.
Neil McDermott as Johnny is a wife pleaser a man in love with a woman not just an era. He goes along with Judys plan of 50s utopia, 6 months experiment that becomes a 3 year chore, his ottness is brilliant the way he utters darling. He pleads for things to return to a normality, he misses his wife's sharp mind that could run rings around him. He misses simply a bag of crisps after a long day, he misses sharing the work load, the joy of bringing his wife a cup of tea in bed. What is apparent is that they are a lonely somewhat socially awkward couple whose love of the 1950s fashion and music led them to friends Fran (Cassie Bradley) and Marcus (Matthew Douglas) a couple who enjoy life to the max yet remind us that the grass isn't always greener behind a different front door. Diane Keen as Sylvia; Judy's Mum was my stand out character her love of Judy and somewhat disappointment in the fact she gave up a career to become a housewife has left a bitter taste of shame. Believing Judy lives a fantasy cartoon life when she was brought up in a commune of feminists, offers an understanding of Judy rebelling. Yet Sylvia's speech about the realities of the 1950s; where winter from October through to March had you offering to help with cooking not to learn but just to be warm. I wanted to stand and applaud that Sylvia had true girl power.
I saw characters who lived with blame culture, it was the job, it was him, it was the clothes, it was the cocktails, it was pizza. It's easy to say I'm listening but to truly listen you need to hear what is actually being said. I hope to catch Home, I'm Darling again soon, whats not to love wonderful characters full of depth, kitsch furniture that looks like its an up-cyclers dream, it just ticks so many boxes.