Theatre Royal, Nottingham – until Saturday 27th May 2023
Reviewed by Jill Heslop
5*****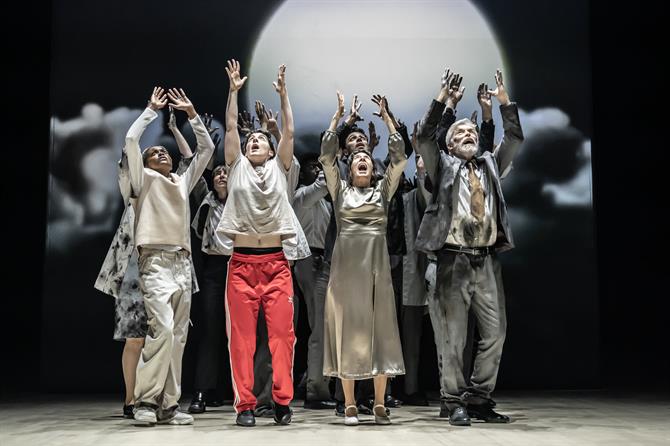 A varied and diverse crowd were in force at the Theatre Royal in Nottingham to enjoy a powerful and diversity-aware RSC production of Julius Caesar, directed by Atri Banerjee, part of the RSC's Power Shifts season.
From the striking opening of a stark black square on stage with musicians entering to stand on top, the sinister mood was established. This was added to by the solemn entrance of the Community Chorus dressed in black, a group of local female community leaders. These women include the current Sheriff of Nottingham – the first Asian woman to hold this civic role, a theatre producer, a primary teacher, a sustainability and building health facilitator, and a trustee for Nottingham UNESCO City of Literature. The RSC will engage local people to join their cast in each venue of their tour, in order to encourage community engagement in the arts and promote awareness of diversity, inclusion, equality and sustainability. Voices were used to great effect here, sounds of thunder and whispers as the cast entered in military lines, and began choreographed dancing, breathing and sometimes shrieking to the throbbing, pulsating music. The minimalist stage set of the cube became a background screen with black and white film of birds flying and flowers trying to push their way through the earth, linking to the themes of freedom and rebellion we were about to watch.
A blustering Caesar, played with suitable confidence by Nigel Barrett, is warned to "Beware the ides of March" to no avail by the Soothsayer ( Niamh Finlay) shouting from amongst the audience. This is a highly effective method used again later as she plays all the voices of the mob during the speeches at Caesar's funeral, dressed in red track suit bottoms, offering us some of light relief amidst the tragedy. Here Mark Anthony's famous rhetoric is delivered with energy and emotion by William Robinson. The roles of Brutus, played by Thalissa Teixeira, and Cassius, by Annabel Baldwin, the two leading conspirators, are movingly shown to struggle with their desires for justice and freedom as their noble cause starts to unravel. Stand out scenes are: the slow motion death of Caesar with black paint representing blood; the celebratory dancing scene, watched by the ghost of Portia (Nadi Kemp-Sayfi), between Brutus and the ghost of Caesar with the poignantly repeated refrain "I'm alive" from the song Nine Out of Ten by the exiled Brazilian, Caetano Velosa; and the movingly portrayed relationship between Brutus and their servant, Lucius (Jamal Ajala) using British Sign Language to communicate.
This is an excellent night at the theatre with not a sword or a toga in sight! A refreshing, inclusive and contemporary interpretation of Shakespeare, making his language relevant and pertinent for us all in our society at this time.