Greenwich Theatre – until 8 January 2023
Reviewed by Claire Roderick
4****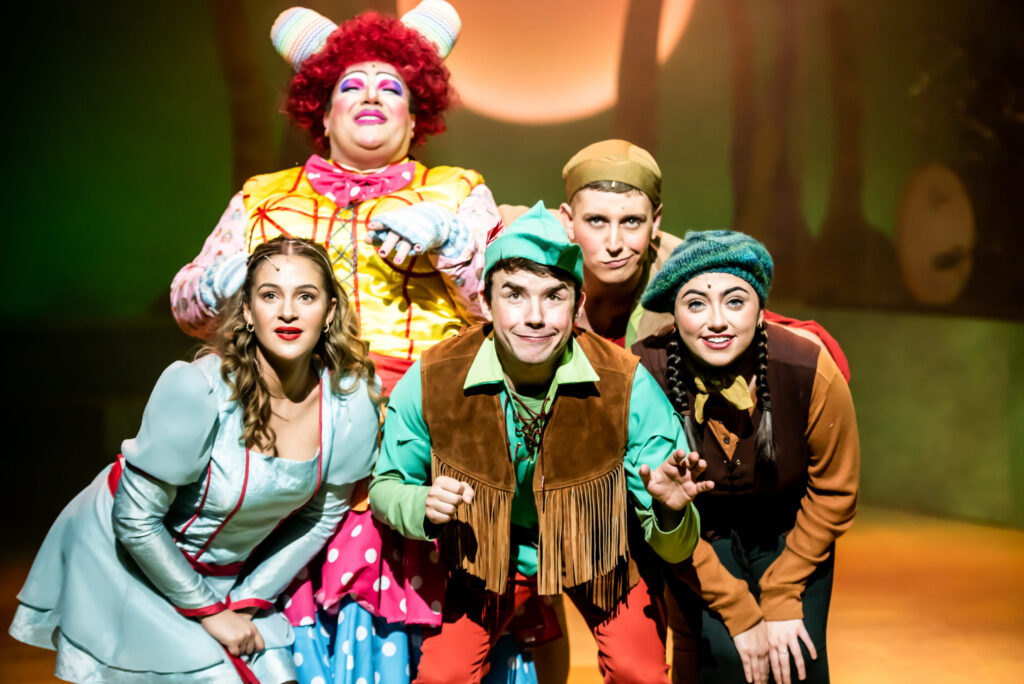 Taking over the writing reins for this year's Greenwich panto, Anthony Spargo's version of Robin Hood hits the bullseye for festive fun.
Robin Hood and his merry men are busily foiling the Sheriff of Nottingham's money grabbing endeavours and longing for the return of King Richard when the arrival of Marian puts Robin in a spin. Marian is on a mission to confront the Sheriff about his treatment of the poor, and teams up with Robin. This sets up the big archery tournament, the capture and insane rescue of Friar Tuck and the Sheriff's comeuppance. That's it plot wise, setting up a parade of chaotic comic schtick and musical numbers that will warm the wintriest heart.
The musical choices are inspired – with Friar Tuck and Little Joan's hilarious performance of a Bonnie Tyler classic and the Sheriff's frankly insane Oasis number brilliant highlights. The inclusion of Mister Cellophane could jar in lesser hands than Louise Gielecki's, but she endears Mutley, the sympathetic doggy henchman, to the audience so perfectly that this quiet moment hits hard. The band – Uncle Steve Markwick, Chris Wyles and Gordon Parrish – are onstage throughout.
Anthony Spargo steals the show as the Sheriff – channelling Rik Mayall, Mick Jagger, Kenneth Williams, Bernie Clifton and a host of other icons as he chews the scenery in true panto villain style. Louise Gielecki as Mutley is the perfect hapless henchman, easily distracted by a ball. Phil Sealey's Little Joan works the audience brilliantly with innuendoes galore and OTT mooning over lost love Friar Tuck (Martin Johnston). David Breeds and Amy Bastiani play Robin and Marian with energy and are great fun, and Sam Rowe and Mirren Scrivener complete the cast as merry men and guards.
Judith Croft's design is more green than garish, with simple woodland scenery ensuring that the actors are the main focus of attention. Director Matt Aston keeps the flow of the comic sketches smooth, with expositional scenes moving swiftly and allowing the onslaught of terrible puns and great physical gags to continue. The traditional confectionary cart gag is wonderful and Spargo and Gielecki's massage and lie detector scenes are so silly they will make your cheeks ache.
With jokes, songs and silliness to satisfy all generations, Robin Hood is another festive triumph for Greenwich Theatre.